By Denny Dyroff, Entertainment Editor, The Times 
Celebrating Valentine's Day is always a good way to break up the doldrums of a grey winter and make you forget about snow.
Here are a few suggestions on how to celebrate the occasion with your sweetheart.
Valentine's Day and chocolates have been a match made in heaven for a long time. Not surprisingly, Valentine's Day is in the top four for holiday candy sales.
If you're wondering how the top four fare against each other, you might be surprised at the answer. Easter is first with Christmas not far behind. Valentine's Day is back a little in third with Halloween a close fourth.
Valentine's Day is just a few days away and wine-loving chocoholics have been – and will be — celebrating all month.
Now through February 14, Galer Estate Vineyard & Winery (700 Folly Hill Rd., Kennett Square, www.galerestate.com) is hosting a special "Valentine's Day Wine and Chocolate Pairing."
At the event, which runs from noon-6 p.m. each day, visitors will be able to enjoy a flight of four Galer Estate Wines which will be perfectly paired with four Bon Bons from Good Good Chocolate.
Reservations are required for this self-guided pairing.
The "Valentine's Day Wine & Chocolate Flight" has a cost of $35 per person.
The "Wine and Chocolate Pairings" at Penns Wood Winery (124 Beaver Valley Road, Chadds Ford, 610-459-0808, http://www.pennswoodsevents.com) will be held every Saturday and Sunday in February from 11 a.m.-5 p.m.
The event features a perfectly paired wine flight and locally made chocolates. This pairing can be enjoyed in the winery's tastings room (reservations only – limited seating available) or virtually (advance purchase).
Virtual pairings include self-guided tasting portfolio, four two-ounce wine tasters and custom-made local chocolates from Good Good Chocolates. They are available for curbside pick-up or local delivery.
"In Person" pairings in the on-site tasting room) include self-guided tasting menu, a flight of five 1.5-ounce wine samples and and custom-made local chocolates from Good Good Chocolates.
Reservations are required.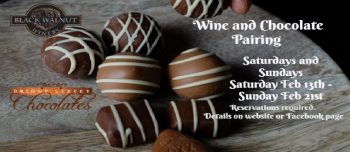 Black Walnut Winery (3000 Lincoln Highway, Sadsburyville, 610-857-5566, www.blackwalnutwinery.com) will have "Wine and Chocolate Pairings" on February 13, 14, 20 and 21.
The pairings feature six of Black Walnut's wines paired with gourmet chocolates from Bridge Street Chocolates of Phoenixville.
Wine and chocolate pairings will take place at the top of the hour at 1, 2, 3 and 4 p.m. Tickets are $25 per person and include a Black Walnut logo wine glass.
Tasting will be held inside therefore seating will be limited for each time slot to ensure appropriate distancing. Reservations are required.
The Chadds Ford Winery (632 Baltimore Pike, Chadds Ford, 610-388-6221, http://www.chaddsford.com) is one that will be celebrating all month.
Every Saturday and Sunday through February 28, the Chaddsford Winery will present "Wine & Chocolate Pairings."
Participants can visit the winery for an intimate and educational 90-minute experience in the newly renovated Barrel Room and treat themselves to a guided tasting of five Pennsylvania-made artisan pairings.
The winery will be partnering with three local businesses including Éclat Chocolate, Birchrun Hills and Herman's Coffee to provide an unparalleled experience highlighting some of the area's best sweet and savory selections.
To provide a safe and comfortable event, only three sessions with a limited number of guests will be offered throughout the day at noon, 2 and 4 p.m. The winery's masked staff will implement an enhanced cleaning schedule between sessions to ensure a sanitized facility and to provide seating that is spaced at least 6 feet apart from other customers.
The "Pairing Line Up" features 2018 Sparkling White, Éclat Lavender Truffle with 2019 Dry Rosé: Redux, Éclat Pear Caramel with 2019 Traminette, Birchrun Hills Blue Cheese and Éclat Dutch Pretzel Bar with 2017 Cabernet Sauvignon, and Hermans Coffee YAAIMH Blend and Chocolate Beignet.
Tastings are $35 per person and offered only on Saturdays and Sundays. Advanced reservations are required and are non-refundable. Children and guests under 21 years old are not permitted to attend this program. Pairings are subject to change.
A great way for chocoholics to satisfy their chocolate cravings is to take a trip to Hershey during the month of February. This month, it's time for "Chocolate-Covered February in Hershey" (various locations around Hershey, 800-HERSHEY, www.chocolatecoveredfebruary.com).
It is only natural that Hershey, the town that bills itself as "The Sweetest Place on Earth," hosts a month-long celebration in honor of all things chocolate. Hershey has decadent chocolate events planned throughout the month of February.
Devon Seafood and Steak and Houlihan's Restaurant Bar in downtown Hershey, Cocoa Beanery on Research Boulevard, and restaurants at Hershey Lodge and The Hotel Hershey will feature chocolate martinis, decadent desserts, sweet treats and cocoa-infused savory dishes.
Adults are invited to join the experts at Hershey Lodge for Martini Mixology events on February 13 and 27. If wine is your preference, sign up for the Hershey Lodge Chocolate and Wine Demo on February 20.
The Hotel Hershey will host two wine and chocolate dinners at Harvest in February — February 18: 90+ Point-rated Wines and February 25: Michael David Winery.
ZooAmerica North American Wildlife Park will offer 50 per cent off admission every Friday in February as part of its Fantastic Fridays promotion. As an added attraction, many of the zoo's animals are more active during the winter months.
Families will love visiting Hershey's Chocolate World Attraction on weekends in February for Hershey Character appearances, double sample days and Hershey's Workshop events.
The Chocolate Lab at The Hershey Story Museum will host its popular hands-on classes, both in the Lab and virtually.
The Butterfly Atrium at Hershey Gardens will feature the Chocolate Malachite butterfly, and kids can have fun searching for cocoa clues to identify chocolate-named garden elements in the Children's Garden and Milton & Catherine Hershey Conservatory.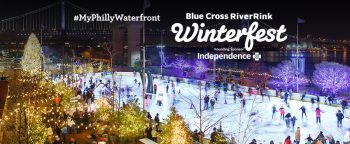 If you're looking for another out-of-the-ordinary way to celebrate Valentine's Day, you might want to consider taking part in the "Sweetheart Skate" at the Blue Cross RiverRink (Market Street at the Delaware River, Philadelphia, 215-923-6533, www.riverrink.com).
"Sweetheart Skate" is slated for February 14 at the outdoor rink. The event's focus is providing a suitable atmosphere for guests to skate with their special someone and RiverRink features one of the most romantic settings in the city.
Guests can safely celebrate Valentine's Day on Sunday 14 with premium ice skating at Sweetheart Skate. They also will be able to enjoy flowers, music by Deejay007, Ferris wheel rides, boardwalk games, and catch some of their favorite romantic films in the open-air Lodge, all in an enchanting setting on the Philadelphia Waterfront.
Ice skating tickets are $20 per person. Premium skate sessions are available starting at 5 p.m. The ticket price includes skating admission, skate rental, and a single rose. Food, drink, and amusements are pay-as-you-go.
This weekend, Elmwood Park Zoo ( www.elmwoodparkzoo.org) is hosting its annual "Valentine's Day Brunch" on February 13 and 14.
Visitors can share a romantic Valentine's Brunch with their significant others or enjoy the event with the entire loving family.
The brunches will take place in the zoo's socially spaced Canopy Gardens Pavilion and will be followed by an animal meet-and-greet. Guests with children who would prefer some quality alone time while they enjoy their brunch can send their kids (ages 4+) to the zoo's fun and educational animal workshop.
There are three brunch sessions each day – 10 and 11:15 a.m. and 12:30 p.m.
Tickets include brunch, admission to the zoo, and an animal greet. The following fees apply: Table for Two, $79.95; Table for Four, $129.95; Each Additional Guest, $39.95; Baby (ages 0-2), $10.95.
The Colebrookdale Railroad (South Washington Street, Boyertown, www.colebrookdalerailroad.com)  is running a special excursion called "Romance on the Rails: Valentine's Trains."
The Edwardian splendor of the Secret Valley Expedition will provide a romantic atmosphere for riders. Couples can sit back, relax, and let the world fade away as they focus on each other and enjoy dinner aboard the railroad's 1920's era train.
The dinner menu includes a salad, a choice of Chicken Marsala paired with asparagus and twice baked potato or Tortellini served with fresh vegetables in a blush marinara cream sauce, and a slice of delicious cheesecake paired with seasonal fruit and chocolate sauce.
Another excursion option is riding in first class accommodations in the Parlor and Lounge cars which include a complimentary adult beverage, light hors d'oeuvres, and dessert.
All ticketed passengers will receive a box of chocolate and a rose as a thank you for spending their Valentine's Day with the Colebrookdale Railroad.
Tickets are $95 for Dining Car and $70 for First Class Parlor.
The New Hope & Ivyland Railroad (32 Bridge Street, New Hope, 215-862-2332, www.newhoperailroad.com) is operating a "Romantic Valentine's Excursion" on February 13 at 11 a.m., 1, 3 and 5 p.m.
Billed as "An intimate excursion through beautiful Bucks County," the event allows riders to take a step back in time to experience the romantic luxury of America's railroads. Passengers will ride in the line's premium turn-of-the-century Parlor cars for an intimate 60-minute excursion through the foothills of beautiful Bucks County.
During the trip, riders will enjoy repose in table-seated comfort while sampling light fare served by the railroad's knowledgeable Parlor Car attendants. Each couple will receive an assortment of crudités, a lush charcuterie board, a long-stemmed red rose, and a sweet treat to wrap up the experience. In addition, each guest over 21 years of age will receive their choice of beer, a selection of red and white wines, or a whiskey flight from the Bucks County region.
Tickets start at $86.99.
The Strasburg Rail Road (Route 741, Strasburg, 717-687-7522, www.strasburgrailroad.com) is running a special train on February 13 at 6 p.m.
According to the rail line's website, "Passengers are invited to don their long johns and winter attire, brave the weather aboard our Open Air Car, and enjoy complimentary Long John donut and coffee."
Not to be confused with the long undergarment worn on cold days, Long Johns are rectangular, yeasted doughnuts that are either filled or unfilled and topped with a variety of icing flavors.
Strasburg Rail Road's Long Johns will be provided by Achenbach's Pastries Inc and available while supplies last to those customers purchasing a ticket for the Open-Air car. They can pick up their Long John donut and coffee at the Station before boarding the Open Air Car.
The rail line's website also posts this advisory:
"Please note: Passengers assume full responsibility for dressing warmly enough for the weather conditions presented the day of the event. Due to the potentially frigid temperatures, this ride is not recommended for very young children, though tickets for all ages are available for purchase in the event of unseasonably mild conditions the day of. During the train ride, any passengers needing a respite from the cold may retreat to a heated Coach directly adjacent the Open Air Car.)"
Tickets for either train ride are $18.50 for adults and $11.50 for children (ages 2-11).
The "Brandywine Railroad" display at the Brandywine River Museum (Route 1, Chadds Ford 610-388-2700, www.brandywinemuseum.org), is an annual event that is fun for the entire family, has been extended through February 28
"Brandywine Railroad" features an extensive O-gauge model. Five moving trains operate at all times and include a 60-car freight train winding past a village, stone quarry, oil refinery, mountains, Herr Foods plant, running waterfall and animated skating scene.
In addition to the Brandywine Railroad, the exhibition, "Betsy James Wyeth: A Tribute," will also be on display through February 28.
The Brandywine River Museum of Art pays tribute to Betsy James Wyeth (1921-2020) with a display of drawings and paintings of and about her in the Andrew Wyeth Gallery, and with a biography of her remarkable life presented in the first-floor lobby of the Museum.
Betsy Wyeth was her husband Andrew Wyeth's business manager and curator, with great precision recording the details of every work completed by the artist and encouraging and propelling him to achieve throughout his career. The artist painted his wife many times over the course of their almost seven-decade marriage. The selection of 20 works shown here are both intimate and enigmatic, capturing her elegance while also communicating a sense of elusiveness that the artist was so adept at conveying.
Admission is $18 for adults, $15 for seniors (65 and older) and $6 for children.
The Chadds Ford Historical Society is not hosting its annual Winter Plein Air Event at its Barn Visitors Center (1736 Creek Road, Chadds Ford, 610-388-7376, www.chaddsfordhistory.org) this year.
Instead, it will host a "Drive Thru 'Valentine's' Bread Sale" on February 13 from 10 a.m.-2 p.m.
The following message was posted on the Society's website:
"Every year we bake bread in the Beehive Oven of our historic John Chads House. This year, we are having a drive thru bread sale for a great way to stay safe, get delicious bread, and support the Chadds Ford Historical Society. The bread has been frozen to maintain freshness in preparation for our Bread Sale event. It is first come, first served so get the bread while supplies last!"
A visit to Longwood Gardens (Route 1, Kennett Square, 610-388-1000, www.longwoodgardens.org) always offers welcome respite to the grey brutality of the winter season. This year's special event is called "Winter Wonder."
"Winter Wonder," which runs now through March 21, celebrates the beauty of winter. It's all about outdoor spacious, indoor oasis, and the power of story.
Outside, visitors can find a sense of peace and tranquility as they walk past textural grasses, seed heads and the dramatic silhouettes of trees that stretch up into the sky.
Inside, they can bask in a world of warmth that features an overhead garden of hanging baskets adorned with such vibrant beauties as jasmine, cape-primrose, and lipstick-plant.
Visitors will be able to enjoy a paradise of flowers and foliage, bursting with color — all in a beautiful indoor winter wonderland with a tropical twist.
"Winter Wonder" exists on two levels.
Both outdoors and in, they can embark on a poignant journey with "Voices in the Landscape," a series of 10 stops throughout the Gardens which can also be accessed virtually from home. In this sensory experience, participants will follow along as storyteller Charlotte Blake Alston honors and celebrates the strength, resilience, and contributions of the African American community through the lens of horticulture and the power of story.
Those taking the tour can hear an ancient Zulu creation myth paired with the oldest plant on Earth in the Conservatory; make their way to the Lookout Loft Treehouse and learn the story of the significance and symbolism of woods and meadows; and call out the name of an ancestor in remembrance at the Large Lake while a traditional spiritual soothes your soul.
Voices in the Landscape is an Accessible Experience.
The exhibition features a total of 10 audio experiences associated with specific locations throughout the Gardens, including seven outdoor stops and three stops in the Conservatory. The entire route is accessible without stairs and the length of the route, including the stops in the Conservatory, is about 1.5 miles.
"Voices in the Landscape" signage is at each stop. Each audio recording ranges between three and eight minutes in length. The estimated time to experience the entire Voices in the Landscape exhibit is approximately 1.5 to 2 hours.
As always, admission by "Timed Ticket" — tickets issued for specific dates and times. Timed ticketing limits the number of people in the Gardens at any given time and allows guests to enjoy minimal lines and a better viewing experience.
You may enter the Gardens up to 30 minutes prior and 30 minutes after your designated time. Make every effort to arrive at your designated reservation time. Earlier or later arrivals may not be accommodated.
Admission to Longwood Gardens is $25 for adults, $22 for seniors (ages 62 and older) and college students, $18 for active military and veterans and $13 for youth (ages 5-18).
Each year in mid-February, Valley Forge National Historical Park (1400 North Outer Line Drive, King of Prussia, www.nps.gov) hosts "George Washington's Birthday Party."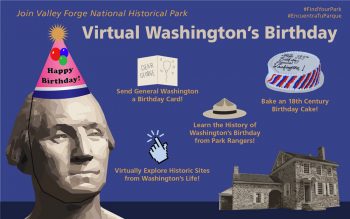 The first public celebration of Washington's Birthday was at Valley Forge in 1778. Now in 2020, you can join in to celebrate His Excellency's 289th birthday.
But, because of the pandemic, this year's celebration will be different.
According to the park's website:
"Due to the ongoing COVID-19 pandemic, Valley Forge National Historical Park is moving its President's Day celebrations online this year. After all, if there is a historic site familiar with the dangers of the spread of disease, it's Valley Forge.
In collaboration with a number of other parks and historic sites, including George Washington's Birthplace National Monument, Morristown National Historical Park, and New York and New Jersey State Parks, we are featuring stories about George Washington's birthday from many pivotal points in his life. We invite you to enjoy the online programming listed below and hope that you and yours remain safe and healthy this winter."
Participants can wish Washington a Happy Birthday in a novel way.
Here's how to participate:
Create your birthday card or other artwork at home.
Take a picture of your work with a digital camera or smartphone.
Send the photograph in an email attachment to valleyforgenhp@gmail.com with subject line "Happy Birthday – [Your Last Name]"
– OR –
post your photo on Facebook or Instagram with the hashtag #WashingtonsBirthdayVAFO
All submissions will be collected and posted on the park website in the Washington's Birthday Art Gallery. Please keep an eye on our social media channels as well, as we highlight submitted cards and artwork.
This activity is recommended for children and adults of all ages.
Fort Mifflin (Fort Mifflin and Hog Island roads, Philadelphia, 215-685-4167, www.fortmifflin.us) is hosting a "Family Fire Pit Festival" on February 13 starting at 10 a.m.
Visitors are invited to gather around a fire pit and enjoy a wintertime adventure. They also will have the opportunity to explore the site to discover unique activities at each of the fort's special fire pits – maybe hear a ghost story or meet a Revolutionary War or Civil War soldier. Guests can also check out the 2020 Eagle Scout projects bringing bat and bird boxes to enhance the site.
It's BYO for camp chairs and refreshments — if desired. If visitors get cold outside despite the fires, they can head into the Soldier's Barracks to enjoy the "Affectionately Yours: Four Centuries of Military Love Letters" pop-up exhibit.
Guided tours, which are scheduled for 11 a.m. and 1 p.m., will focus on the contributions of African Americans to the Fort's history from the 18th to the 20th century.
Tickets are $10 for adults, $8 for seniors (62 and older), $6 for youth (12 and under) and veterans (with ID), Masks and social distancing required.
This is the time each year that the town of Lititz (https://lititzpa.com/) hosts its annual Fire & Ice Festival but COVID-19 has thrown a wrench in the works.
On Sunday and Monday, visitors are invited to walk around downtown Lititz and enjoy the ice sculptures, dine at local restaurants, and shop at the local stores.
Lititz has responded by making some alterations to the annual celebration.
According to the event website:
"While the pandemic has canceled Lititz Fire & Ice, it cannot cancel our spirit! Venture Lititz will host the 2021 Lititz Ice Walk from February 12-20. This event will kick off the same weekend as our traditional Lititz Fire & Ice event but run through the following Sunday.
"We will put out additional ice sculptures every few days over the nine days of the event — lots of chances to stop back and see what is new. This event is just an ice event – no fire, no entertainment, just ice sculptures."
February is African American History Month and the National Constitution Center National Constitution Center (525 Arch Street, Independence Mall, Philadelphia, 215-409-6700,www.constitutioncenter.org), which is re-opening on February 12,
This month, National Constitution Center audiences can commemorate African American History Month by taking part in live classes, booking a live exhibit tour, or exploring the Center's resources.
This February, visitors to the Center can commemorate African American History Month by viewing "Civil War and Reconstruction: The Battle for Freedom and Equality," the first exhibit in America devoted to exploring how constitutional clashes over slavery set the stage for the Civil War, and how the nation transformed the Constitution after the war to more fully embrace the Declaration of Independence's promise of liberty and equality.
Through remarkable artifacts and rare documents from one of the largest private Civil War collections in America—the Civil War Museum of Philadelphia—and other partners, the 3,000 square foot exhibit brings to life the stories of Frederick Douglass, Abraham Lincoln, Harriet Tubman, and other figures central to the conflict over slavery.
The exhibit also features the inspiring stories of lesser-known individuals to help shed light on the American experience under slavery, the battle for freedom during the Civil War, and the fight for equality during Reconstruction, which many call the nation's "Second Founding." In doing so, visitors will learn the history of three constitutional amendments added between 1865 and 1870, which ended slavery, required states to respect individual rights, promised equal protection to all people, and expanded the right to vote to African American men.
The National Constitution Center will resume operations on a modified schedule and will be open Fridays through Sundays from 10 a.m.-3 p.m., in addition to being open Presidents Day, Monday, February 15.
During Presidents Day Weekend, the Center's popular Presidential Portrait Gallery, will transform into an informational headquarters where visitors can learn about Article II of the Constitution. Participants can explore the ins and outs of the Electoral College, delve into the duties and requirements of the executive office, and take part in presidential role-play scenarios.
Visitors are also invited to showcase their knowledge of past U.S. presidents, as our interactive trivia game challenges them to find all of the presidents from Ohio, the only president from Pennsylvania, the last president born before the revolution, the first president born in a hospital, and more. This is a non-contact experience is located in the Center's Grand Hall Lobby, which allows ample space for social distancing.
Plus, visitors can view the Center's exhibits, including Signers' Hall, which features life-sized statues of presidents Washington and Madiso and "The 19th Amendment: How Women Won the Vote," which explores how the right to participate in elections has expanded and become more inclusive throughout history.
General admission is $14.50 for adults, $13 for Seniors (age 65 and older) and College Students (with ID), $11 for Youth (ages 6-18) and free for children (five and under) and active military.
On February 13, the Greater Philadelphia Expo Center (Station Avenue, Oaks, 800-677-4677,  is hosting the East Coast Reptile Super Expo featuring hundreds of live snakes and reptiles.
A wide array of reptiles will be on display as part of the popular exhibition. One of the show's main attractions is a sales exhibit area featuring a large number of vendors with live reptiles, amphibians and arachnids as well as food items, supplies, books, cages, and related accessories.
The roster of very diverse vendors includes AZO Reptiles, Rose's Reptiles, Blake's Exotic Reptiles, Reptile Kingdom, DHA Pythons, Gecko Haven, Hunger Reptiles, Jungle Emporium, Blackheart Reptiles, Delaware Turtle, Just Lizards and Outback Reptiles.
The list also includes RKZ Rodents. Monstar Reptiles, Turtle to Turtle, Delaware Valley Herpetarium, Newville Dragons, PM Herps, Jay Jacoby Serpent Propagation, Black Jungle Terrarium Supply, VSCV Ventures LLC, Dachiu Dragons, Tom Rogan Reptiles, Native Exotics.
Other featured vendors will be Heath's Frog Farm, Corralus Creations, Rogue Reptiles LLC, Jason R Bartolett Captive Bred Reptiles, Fowler Reptiles, Dragon Fortress, Turtle Towns, Garden State Tortoise LLC, Reptile Addicts, MCO Reptiles. A.M. Snakes, Charm City Glam Charms, Dragontown Reptiles and J&R Constrictors.
The East Coast Reptile Super Expo, which is always a well-attended event, will run from 9 a.m.-4:30 p.m. this Saturday. Tickets are $10 with children (under five) admitted free.
Sesame Place (100 Sesame Road, Langhorne, www.sesameplace.com) is a festive, family-friendly celebration with everyone's favorite Sesame Street friends live and in-person at the amusement park in Langhorne.
Now through February 24, Sesame Place is presenting its all-new 40th Birthday Drive-Thru.
Visitors will feel like the guest of honor as they make their way through the bright and colorful birthday scenes, listen to energetic tracks from the popular Neighborhood Birthday Party Parade, and wave to Sesame Street friends dressed in their birthday best.
Anticipation builds as visitors make their way through a maze of whimsical birthday lights and venture through an illuminated cake of frosted fun. As guests make their way into the park, they will be greeted by even more Sesame Street friends in festive attire atop their birthday-themed floats.
Tickets for Sesame Place's "40th Birthday Drive-Thru" are $35 per carload.
Elmo's Furry Fun Fest is running through March 21.
This new event series will offer guests brand new, limited capacity special events where they can celebrate everyone's favorite red monster during Elmo's Rockin' Birthday Bash, treat little loves to a fun day during the My Fuzzy Valentine's Celebration, let the good times roll during the park's family-friendly Mardi Gras Celebration, grab cozy jammies to celebrate our favorite feathered friend's birthday at Big Bird's Pajama Party
Guests can enjoy these fun-filled, safe, and family-friendly events with everyone's favorite Sesame Street® friends. Guests can ride the Count's Fly By, Count's Cruisers, and the Sunny Day Carousel during the event plus enjoy fun activities including Elmo's Balloon Scavenger Hunt, a Furry Friends Dance Party, and a different themed character dining experience each weekend (additional charge and reservations are required). Plus, everyone's favorite Neighborhood Birthday Party Parade will have everyone dancing and singing along with Elmo, Cookie Monster, Abby Cadabby, Count von Count, Bert, Ernie, Zoe, Rosita and Big Bird!
The event schedule is My Fuzzy Valentine's Celebration from February 13-15, Mardi Gras Celebration on February 20, 21, 27 and 28, and Big Bird's Pajama Party on March 13, 14, 20, and 21.
Grim Philly's "Dark Philly History Tour" (www.grimphilly.com) will be held every Friday and Saturday night in February and March at 8 p.m. each evening. Beginning in April, the tour will be presented every evening.
Participants can walk with tour guides from the grounds of America's first White House, Congress, and Liberty Bell to homes and sites of Hamilton, Washington, Franklin, Adams, Jefferson, Madison, Monroe, and more than 10 other Founding-Fathers. The surprising dirt of espionage, murder, sexual license and blackmail highlight the secrets of 1776 with a ghost story or two along the way. This tour is highly researched. And your guide is a historian.
Grim Philly will also be presenting "Serial Killers & Cemetery Tour" every Saturday at 2 p.m.
Participants will have the opportunity to experience unconventional sightseeing off the beaten path. They can enjoy Betsy Ross House, Christ Church, Elfreth's Alley, and Benjamin Franklin's Grave, together with tales of serial slayings and psychopathic killers like the Corpse Collector, Frankfort Slasher, and H.H. Holmes.
Ghost Tour of Philadelphia (215-413-1997, www.ghosttour.com), Ghost Tour of Lancaster (717-687-6687, www.ghosttour.com) and Ghost Tour of Strasburg (717-687-6687, www.ghosttour.com) operate throughout the winter and offer an eerily entertaining evening of true ghost stories and real haunted houses.
The Ghost Tour of Philadelphia, which is based on the book, "Ghost Stories of Philadelphia, PA.," is a candlelight walking tour along the back streets and secret gardens of Independence Park, Society Hill, and Old City, where ghostly spirits, haunted houses, and eerie graveyards abound.
Participants can discover the ghost lore of America's most historic and most haunted city with stories from the founding of William Penn's colony to present-day hauntings.
The activity is open year-round – weekends, December-February; every night, March-November. Tickets are $24.
The Ghost Tour of Lancaster and the Ghost Tour of Strasburg are based on the book, "Ghost Stories of Lancaster, PA."
Participants in the Ghost Tour of Lancaster explore the long-forgotten mysteries of one of America's oldest cities, with haunting tales of otherworldly vigils, fatal curses, and star-crossed lovers. The tour provides the opportunity to experience 300 years of haunted history from the Red Rose City's thorny past. Tickets are $18.
The Ghost Tour of Strasburg is a candlelight walking tour of the quaint and historic town of Strasburg in the heart of Pennsylvania Dutch Country. Visitors will experience an entertaining evening with a costumed tour guide spinning tales of haunted mansions, eerie graveyards, and spirits that roam the night … in a town lost in time. Tickets are $18.