By Lele Galer, Columnist, The Times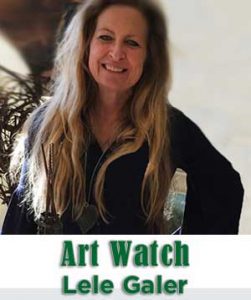 The big go-to art event this weekend is Saturday's 1st Anniversary Exhibition and celebration reception at Gallery 222 in Malvern from 6:30pm to 9:30. Artists, art lovers , friends and public are all welcome to enjoy art, live music, food and drinks to toast the gallery's first year in business. Gallery 222's 1st Anniversary Show, "Graham, Galer and Durnin" will be on view at Gallery 222's location at 222 East King Street in Malvern through October 14th.
After only one year in business, Gallery 222 was voted Main Line Today's Best New Art Gallery for 2017, and when you come for a visit to the gallery, you will understand all the accolades. Thanks to the vision and unstoppable energy of gallery owner Andrea Strang, in just one year, 222 East King Street changed from a charming little house to an award winning, must-see gallery, studio space, and event space. It has brought new vitality to the business community of Malvern, and created an important new art space to encourage local art. Cheers to Gallery 222's First Year Anniversary!
Andrea Strang, owner of Gallery 222 in Malvern is very excited to celebrate the success of Gallery 222's first year open to the public. A year ago, Andrea completely renovated the interior of the location's cheery clapboard house by creating three welcoming, light-filled galleries with a large, central country kitchen and a lovely outdoor garden patio.
Currently Lele Galer and Monique Sarkessian are exhibiting their large steel welded sculptures out in the Gallery 222 garden patio area. Lele's 3 very large steel welded metal nests are joined with Monique's lively abstract found-object steel sculptures, all in a beautiful garden setting off of the main gallery. Gallery 222 houses three distinct galleries that flow easily through the first floor space.
This month, Randall Graham's oil paintings will hang in the largest exhibition gallery, and Nathan Durnin and Lele Galer's paintings will hang in the two smaller galleries.
Randall Graham has a light, impressionistic style of realism that pays close attention to the truth of object of interest, but also plays with light, color, texture and thoughtful brushwork. Graham's work is steadily evolving to a signature style that belies the simplicity of his subject matter. He is an artist to watch, and to collect.
Each of the Gallery 222 exhibition spaces are bright white, with great lighting and the artwork is hung beautifully by Andrea Strang, who makes an easy transition from one gallery space to the other. Every month, Andrea curates at least three different art exhibits; with monthly opening receptions, gallery talks, hanging art and taking it down – that is a lot of work to manage! But, you would never know it from Andrea's enthusiastic, happy personality. Over a very short time, Andrea has developed a very long list of loyal artists and customers. Andrea takes time to get to know her artists and to know the tastes of her clients. If a painting doesn't work out for a customer, then she'll take it back because she wants her customers to love whatever art they purchase. Besides running the gallery, the location also houses several rented art studios and is a popular event setting for local businesses and parties.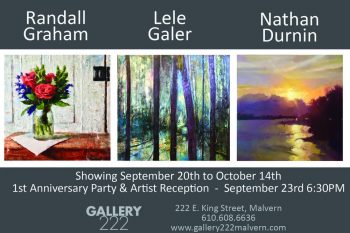 From September 20th – October 14th, Andrea celebrates the gallery's first birthday with the work of three local artists in "Graham, Galer and Durnin " which has an artist reception party September 23rd with wine (including Galer Estate Chadonnay) and local bites to enjoy.
Both Randall Graham and Nate Durnin are well-known for their work as award winning plein air painters, and Lele Galer (me, actually) is known for her large abstract forest-scapes and steel metal sculpture. Both Randall Graham and Nathan Durnin are also art teachers. Randall Graham teaches painting to students out of his rented studio space at Gallery 222, and Nathan Durnin teaches painting and drawing classes at the Wayne Art Center and Delaware County Community College.
One of the many unique things about Gallery 222, is the video and online promotion that The Graham Group gives to each exhibiting artist. They make an artist feel like a TV star! For artist in-studio videos, check out Gallery 222's website and facebook sites. The in depth video interviews and online artist descriptions are great ways to make art and artists more accessible to the general public. For Gallery 222, art is all about accessibility, sharing, chatting, and enjoying art in a beautiful, comfortable setting (preferably with a glass of wine and a bite to eat!) Each of the artists is very excited about participating in this 1st Anniversary show, and Andrea Strang is enthusiastic about the milestone show, and looking forward to the year ahead.
I asked Andrea to look back on this first year at Gallery 222, and she said "Wow, what an amazing year!  It was a jammed packed inaugural year filled with so many wonderful moments for G222 with our 1st Annual Plein Air Malvern, the Artist Receptions, Gallery Talks and all the amazing people who chose to hold their events at our Gallery.  But I must say, my favorite part is knowing so many pieces of fine art are now being appreciated in the homes of our clients.  We look forward to what our second year brings including some amazing events and continuing to spread the importance of supporting local artists and the amazing art they passionately create."
If you have yet to visit Gallery 222, September is a great month to do so. Try to visit Gallery 222 this Saturday evening, and join us in raising a glass in cheers Andrea Strang for a stellar first year!
Be sure to tune into Art Watch Radio WCHE am 1520 this Wednesday, September 20, when John Chambless hosts Chester County Art Association's Executive Director Wendy Kershner and art collector Richard Chalfont, as they talk about the new shows coming up for CCAA, including "Art as Change: 1960s Revolutionary Images" and the "Hall Collection and Auction." Art Watch Radio is every Wednesday from 1-1:30 on WCHE Radio 1520 where various local art hosts interview artists and art movers and shakers in our area. To hear previous podcasts, go to www.lelegaler.com for free downloads.