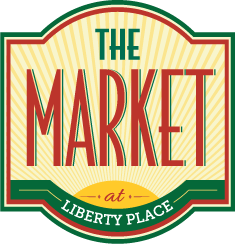 KENNETT SQUARE — The Market at Liberty Place will be celebrating it's first birthday in grand style, the weekend of July 11, 12, & 13. Festivities kick off on Friday July 11th, with two live musical acts, with a weekend full of fun activities.
The Market will have a Frank Sinatra-style performer from 5:00-7:30 followed by Kennett Square's own "Born Sisters" from 7:30-9:00. Kristen & Kara Zach are country/pop duo who write and perform their own songs.
Saturday's events include a history lesson with Captain Liberty on the history of the Liberty Ship (what the Liberty Place building is made out of) at 11 AM, children's storytime "One Tooth Tim & Pirate Jim" with local author and Kennett Square resident Peter Doerfler at both 1:00 & 1:30 PM. Sidewalk chart and bubbles will be available outside (weather permitting) for the kids and kids at heart on Saturday afternoon from 3:00-4:30 PM.
Saturday evening will be capped off by a performance by the exceptional R&B band Goodfoot with Borough Council member Leon Spencer will perform as the lead vocalist. Sunday, Captain Liberty will be back again at 11 AM. Other activities on Sunday include a book signing by children's author John-Ruben Aranton Jr. from 12-2 PM. Aranton wrote the book "What Treat Can Ruben Eat", a book about children's food allergies. A trivia contest will take place at 2 PM on Sunday afternoon. It is free to enter and prizes will be available. Temporary tattoos and balloons will be available all weekend as well. The Market will also have a guest vendor, Giggybites, seller of fresh baked, gourmet dog treats for the entire weekend.
Located at 148 West State St in downtown Kennett, The Market at Liberty Place is home to an exciting mix of merchants selling freshly prepared foods, wine, produce, and other retail goods. It is also designed to serve as a gathering place for members of the Kennett Square community. Located inside the Market are Nourish Juice Bar & Café, Yo'R So Sweet (creperie), State St Pizza & Grill, Paradocx Vineyard, Terra Foods (an all natural, organic grocer), George & Sons Seafood, & Punk'd Pineapple (soft serve ice cream).
For more information concerning The Market at Liberty Place contact LGB Properties at 610-925-3411 or gbosley@lgbproperties.com. You may also visit The Market on the web at www.themarketatlibertyplace.com. For a full selection of events located at The Market, please visit The Market's Facebook page as well.