To The Editor,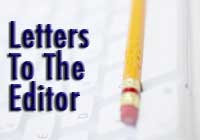 I have reviewed numerous replies to submissions I have made to The Times. I believe that I must respond to some of the comments. First my family and I moved into Pocopson Township in 1957. I have lived here ever since. My education consisted of two years of parochial school in Wilmington, followed by four years in the Unionville School (it was a 1-12 facility at the time), followed by six years at Tower Hill School. I received a BS from Trinity College in Hartford CT. and a Master of Engineering from Rensselaer Polytechnic Institute. I have no desire to capitulate to Mr. Knauss' suggestion that I could move.
I served for about ten years as a Pocopson Supervisor. I was first appointed to an unexpired term and then was twice elected to the position. I left early, as I could not support the development of a potential Superfund site, an old apple orchard contaminated with arsenic. During my time on the Board, the Township population increased by approximately 150 new residents and there was little, if any, new construction. I also convinced the other Supervisors to support and institute two one-mil reductions to our property tax rate. These could be the only property tax reductions in the Township's history. I developed a recycling program for the Township that has generated about $60,000 over the last 20 years. Finally I volunteered to serve on the Kennett Area Regional Planning Commission for 20 years. The Commission composed of representatives from six local municipalities
worked on solving regional problems and addressing mutual concerns. I continue to be involved in some Township matters.
I started to attend the School Board's public meetings in 1995 and their work sessions after I resigned as a Supervisor. I have also occasionally attended subcommittee meetings. Finally, I assisted in the development of two six-year plans for the district.
I agree with Mr. Knauss that people who send e-mail messages should sign these submissions and not use pseudonyms. However, I find it very ironic that Mr. Knauss also uses a pseudonym at times when he desires. It appears to be common knowledge that "Open Eyes" is really Keith Knauss. How hypocritical can he be?
For those of us who remember the "Efficient Education" diatribes issued by Mr. Knauss and Mr. Hellrung before they were elected to the UCF School Board, or perhaps are even lucky enough to still have copies of these papers, they will dearly see how completely hypocritical Mr. Knauss is.
Mr. Knauss criticizes my call for larger class sizes in the High School that currently averages around 16 students. What I was proposing was that the High savings. Why have policies if you are not going to follow them?
Mr. Knauss also states "It is interesting to note that the (TE) District last had a zero percent tax increase was budget year 2004-05, a decade ago …. I find it even more interesting that the last time the UCF District had a zero percent tax increase in Chester County was budget year 1996-97, almost two decades ago. People who live in glass houses should not throw stones.
It would be far better if all bloggers stuck to the facts and not opinions, speculations, and hypotheticals. Much more appropriate progress could be made if this concept was adopted by all. I make every effort to provide the public with facts and to always present the truth.
Bruce B. Yelton
Pocopson