GOP faces opposition in all but two races in Nov. elections
By Mike McGann, Editor, The Times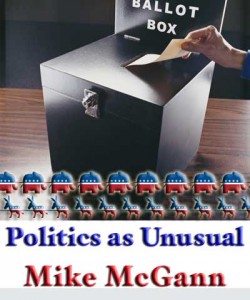 Petition season is over, and unless there are some write-in candidates, we know who will appear on the May primary ballots.
And, although I took the Democrats to task for seeming to have a shortage of candidates, they've managed to challenge all but two legislative races in Chester County. Yes, there shouldn't be any uncontested races — ever — but some late hustling and gathering of signatures produced additional candidates in three more legislative districts.
In the 13th, Ann Schott, a teacher at Unionville High School — and wife of 2012 state house candidate Eric Schott — will take on incumbent State Rep. John Lawrence. In the 157th District, Marian Moskowitz, a Tredyffrin business owner, will take on State Rep. Warren Kampf. In the 160th District, Kennett Square's Whitney Hoffman will take on State Rep. Steve Barrar.
Admittedly, these are all tough races for the Democrats — thanks to the demographics and voter registration of the respective districts. And facing well-funded, well-known incumbents is a struggle under the best of circumstances. And while is is disappointing that there are no Democratic candidates in the 26th (with incumbent State Rep. Tim Hennessey) and the 155th (with incumbent State Rep. Becky Corbin), it is a good sign that this year's crop of Democratic candidates, on the whole, are likely to contest their races strongly and push incumbents to answer why things are they way they are in the state.
That's a very healthy thing — too many things in Pennsylvania are utterly dysfunctional — and while both parties share blame, the more accountable candidates are and are forced to be, by having competition, the better.
Are there pick up opportunities for the Democrats? Above and beyond the 74th District — a Democratic-leaning district, where Joshua Young and Josh Maxwell are battling for the Democratic nomination to take on Republican Harry Lewis Jr. — there are a couple of districts Republican insiders are worried about, especially if Gov. Tom Corbett struggles in his reelection race.
The 156th — which is probably now more Republican friendly than it was when Democrat Barbara McIllvaine Smith represented it — still could be vulnerable with State Rep. Dan Truitt running. Democrat Sandra Snyder would appear to have a puncher's chance, but would need big turnout in West Chester — a big problem in non presidential years — to make it happen.
Another race to keep an eye on: the 167th. State Rep. Duane Milne appears to have quelled an open revolt among top Republicans in the district, but it remains to be seen how many in his party will see a disappointing Corbett run and Milne on the ballot as a good reason to stay home on a election day. Anne Crowley, the Democrat running, ran against Milne in 2006, and is a strong campaigner — and is fairly well-known in the district, having served on the Tredyffrin-Easttown Board of Education.
One other wild card: The 158th. Should Tea Party darling Roger(s) Howard knock off Cuyler Walker in the primary, bet the house on Democrat Susan Rzucidlo. Rzucidlo, a tireless campaigner and public advocate, will be formidable enough in a fall race against Walker. Against Howard — who is defying county party leadership by staying in the race and made powerful GOP enemies with his 2012 race against state Sen. Dominic Pileggi (who is the Senate Majority Leader), she'd win. I've spoken with a number of Republicans who feel the race will be a write-off if Howard wins — a fact that seems to be marshaling additional support for Walker.
And while Democrats should have the upper hand in the 74th, keep an eye on the planned rail station plan — and who is taking credit for it — and whether that ends up having some blowback for the eventual Democratic candidate in that race.
This afternoon, increasingly likely Democratic gubernatorial candidate Tom Wolf is doing a walk-and-talk about the station, shortly after getting the endorsement of state Sen. Andy Dinniman. Dinniman and the Democrats try too hard to take credit for the project, expect Republicans to push back hard — as it took support from Hennessey and state Sen. John Rafferty — along with GOP majorities in both house of the legislature to make the project happen.