Plus: what's going on this week in art
By Lele Galer, Columnist, The Times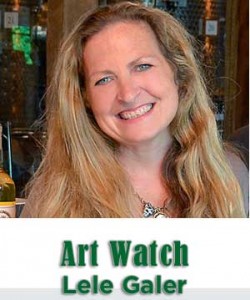 Painter Jasmine Alleger will be exhibiting this Thursday March 20th  at Galer Estate Winery for a Pop up show from 5-9pm.  Alleger combines found materials and photographs with painted objects of everyday subject matter. She writes that "the juxtaposition of collaged material with painted objects is a way to navigate through contemporary media."
Her patterning, choice of colors, and layers of graphics create a special relationship between her imagery that unfolds into a conversation.  Aesthetically pleasing and delightful to explore, her artistic works remind the viewer of things past, interspersed with images from our every day.
As the viewer's eye moves in and out of the space, you start to make connections with the references and the visual story starts to unfold.  In 2012, she completed "A Month of Breakfast" which chronicles a different breakfast meal that she had each day in August of 2012. From a  painted bowl brimming with yogurt and fruit to a eggs on toast, the everyday meal ritual is set against a background of collaged mid-century American  iconography that puts our daily ritual into a greater context of time and place. She also did a gorgeous recent series of 20th Century chairs for her masters thesis at Moore College of Art. I am looking forward to seeing what she is creating now!  At this Thursday's Pop up show at Galer Estate, 20% of the proceeds from sales benefit the Chester County Art Association's new building fund.
This weekend is the 65th annual The Chadds Ford Art Show with 75 local artists exhibiting at Chadds Ford Elementary School. The show starts with delicious food and lively music on Friday from 7-10pm and then continues Saturday from 10am-4pm. This year's featured artist is J. Wayne Bystrom and Victoria Wyeth will give a talk about her family's art on Saturday at 11am. This is the oldest ongoing art show and sale in our area and is well known for attracting the best of  Brandywine traditional painters as well as highlighting a sampling of non-traditional artists from our area.  A portion of the proceeds go to support projects and programs at Chadds Ford Elementary.
At the exciting new Art Gallery at Franklin Common in Phoenixville, their first show "New Perspectives" is showing through April 24th.  Ten local artists are showing including Karen Delaney, John Gwinn, Annalie Hudson, and Leslie Ehrin.  It is a terrific, spatial exhibition space for local art and is now accepting applications for their upcoming show  "Celebration of the Feminine".  Curator Katie Naber says " The Commons is a unique place for artists to exhibit work not commonly found in other gallery spaces.  Networking and inspiring through relatable themes is what we are all about." For more information go to www.franklincommons.net/art-gallery/exhibitions.
If you are looking for a real art bargain, check out the Chester County Art Association's  "Renovation Sale" March 20-27 to benefit the Chester County Art Association's new Building Fund. If you have art that needs to be changed out, consider donating to the Renovation Sale and get a tax deduction while contributing to a great cause! You have to get your art donations in by this Saturday. You can call 610-696-5600 for more information about that. The eclectic art collection of Madeline. Lamb will also be for sale at the Chester County Art Association from March 20-28. A passionate local art collector and a strong supporter of the Art Association, 50% of the proceeds from the sales of the collection will go to the Association's New Building Fund.
www.franklincommons.net/art-gallery/exhibitions
Lele Galer is an artist who has chaired numerous art shows, taught art history and studio art, public art and has chaired, written and taught the Art in Action Art Appreciation series for the UCFD schools for the past 12 years. She worked at the Metropolitan Museum of Art, and wrote for the Asociated Press in Rome.  She has been dedicated to Art History and art education for most of her adult life. Lele and her husband Brad own Galer Estate Winery in Kennett Square and co-Chairs the CCAA's New Building Campaign.