Although Spring may be slow in coming, the Spring art scene is blooming
By Lele Galer, Columnist, The Times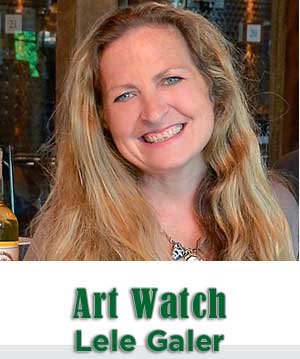 With all the snow and ice of the past weeks, it will be nice to start visiting the local galleries again, going to events and warming up to great food, wine and local art. The end of winter is a perfect time to get inspired to be creative, and it is always great when art combines to raise money for a worthy cause.
This week the Pop -up Thursday Art Show March 6th  at Galer Estate Winery will feature "Quilts by Kate".  Local artist Kate O'Toole from Avon Grove who studied science, but developed a passion for quilt-making. Kate's quilts are often seen at regional craft shows and she has developed quite a following.
How does she choose her fabrics? Kate says that a fabric must "scream 'take me home"" before she buys it and incorporates it into her unique designs. Baby size quilts range from $100 and King size quilts start at $600. 20% of the proceeds from sales benefit the Chester County Art Association's new building fund, and check out the Art Association's new list of Spring classes if you really want some hands-on inspiration. www.chestercountyarts.org
The 5th Annual Radley Run Art Show to benefit Safe Harbor of Chester County is free admission and is set for Friday March 7th and Saturday March 8th. This is a terrific event, directed by artist Karen Delaney and pulled together with a dedicated Board of Radley Run Country Club members; it just keeps getting better and better every year!
For 2014, there are 50 participating artists and 25 silent auction artworks that have been donated by the artists for Safe Harbor. Admission is free, and Friday night 6-10pm guests will enjoy free appetizers, music, a cash bar, and a lovely warm atmosphere.
On Saturday from 1am-3pm the atmosphere is less like a party and more like a gallery setting to enjoy and purchase art. If you are going to the event, you might consider ordering dinner or lunch from the Pub (610-793-1660 for reservations) which is always a relaxing treat. This art show benefits the extraordinary Safe Harbor of Chester County (www.safeharborofgwc.org) which provides shelter, food and guidance for our area's homeless.
The Radley Run Art Show is located at Radley Run Country Club 1100 Country Club Road West Chester PA.
At Mala Galleria in downtown Kennett Square, the newest show is called "One Fish, Two Fish, Green Fish, Blue Fish" and it goes from March 7th to March 31st.  This show  honors the world of Dr. Seuss whose birthday is March 2nd and also corresponds to "Read Across America Week" established by the NEA 17 years ago to promote programs that motivate children to read.
Featured ceramic artist Meghan Bergman brings the beauty, texture, and movement found underneath the sea to the surface of her ceramic artwork. The show's theme plays off of the Dr. Seuss classic children's book and showcases beautifully hand crafted and whimsical fish mugs that take on a unique personality. The solo exhibition also features Bergman's absolutely wonderful large barnacle sculptures, which look as if they have been aging over time, growing life on the surface of each piece. Stunning work.  It is so nice when you can go into a gallery and find delightful artworks that every member of your family can enjoy! www.malagalleria.com
The Tenth Anniversary Dragonfly Forest Gala is also this Saturday evening March 8th at Longwood Gardens. You can still purchase tickets at www.dragonflyforest.org/events/gala.  This event raises money for Dragonfly Forest which is a year round camp experience for children with autism and medical needs. There will be "Camp inspired" dinner stations, live music, cocktails and hors d'oeuvres as well as a terrific art show of well-known artists including Stan Smokler, Jeff Schaller, and Mitch Lyons.
"I'm excited to introduce my work to a new audience for a great cause" says artist Jeff Schaller.
Guests can also stroll through the beautiful Longwood Gardens' Conservatory fabulous new Orchid Extravaganza display. Sounds like a magical evening!
To learn more about these shows and the organizations behind them, click on the following links:
Lele Galer is an artist who has chaired numerous art shows, taught art history and studio art, public art and has chaired, written and taught the Art in Action Art Appreciation series for the UCFD schools for the past 12 years. She worked at the Metropolitan Museum of Art, and wrote for the Asociated Press in Rome.  She has been dedicated to Art History and art education for most of her adult life. Lele and her husband Brad own Galer Estate Winery in Kennett Square and she is President of the Education Foundation and co-Chairs the CCAA's New Building Campaign.