By Lele Galer, Columnist, The Times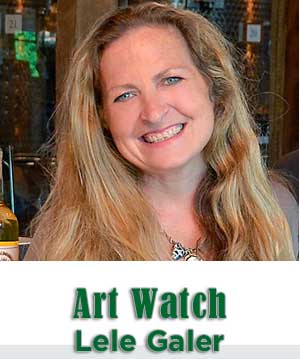 This week's ArtWatch focuses on the beautiful hand blown glass work of Glasslight Studios in St. Peters Pennsylvania. Joel Bless found his passion for glass back in the 1970s when he was a student at Rochester Institute of Technology's School of American Craftsmen.  From the start, he was drawn to making lighting art , which won many awards and was exhibited in craft shows around the country.
In the  1980s he and his wife, glass fusing artist Candy Bless, moved to the historic town of  St.  Peters and opened up Glasslight Studios.  At Glasslight there is a gift shop gallery and a huge glass blowing studio where they hold classes throughout the year.  Joel currently makes a wide range of hand-made glass lighting products in a variety of styles and is always working to develop new techniques for creating functional art.  Joel and Paul Madsen, glass and iron artist, work together to create exquisite lamp and glass installations and Candy Bless creates beautiful fused glass artworks that are on display throughout the store.   
Blown glass ornaments and glassware are also sold at the gallery store and will be exhibited this Thursday at the Galer Estate Winery PopUp Art show from 5-9pm for holiday shopping.
Art glass colors have strong hues that are intensified as light filters through them. If you take glass art near a light source, you will see the glass play with the light in the most spellbinding way. Strong colors, extraordinarily high temperatures, heavy tools, and fragile forms… are all part of the magic of glassblowing which is both exhilarating and dangerous. You have to have the right personality to be devote yourself to this particularly volatile art medium. For anyone who has ever been intrigued by the beauty of glass, I whole-heartily recommend the Glasslight classes that are given throughout the year. These classes have taught and inspired many of the glass artists that currently work in our Chester County area, and are truly a magical experience taught by expert craftspeople. Be careful though, you may get hooked!
Joel Bless does most of the major glass blowing at the studio, and specializes in gorgeous multi-colored glass shades, like the orange and yellow open cone sconce and red table lamp. Candy Bless combines her background in two-dimensional design, intaglio, and collage with her knowledge of glass to produce functional art that bridges the boundary between two and three dimensions. "The possibilities," she says, "seem endless!" Candy did the art glass collage table "Amber Radiance" which is both beautiful and functional.
Paul Madsen began working on hardware at Glasslight in 1989. Intrigued by the hot glass processes, he began experimenting and training after hours. In addition to glass-blowing at Glasslight, Paul does much of the glass-cutting and grinding, creates forms for molding glass, and makes custom lamp fixtures. He also works with Joel heating and bending the metal rods that become the bases for Glasslight's spiral table lamps, floor lamps, and tables. Quiet and modest, Paul admits he enjoys the creative aspects of working with Glasslight. Paul helped create the lovely table lamp featured here – and the photo does not do it justice. My husband and I bought a version of that lamp and it sits on a table in the main entryway of his business. When the light turns on it like a red fire glowing.
The team also does custom work, like the exuberant color-filled chandelier that is pictured here. If you have an idea,  they can work with you, design it and create it. They are a lot of fun to work with, and if you venture into the Glasslight inventory storage you will feel like a kid in a candy store. Globes and blown and fused glass in every color and variety are stocked for repurposing into various installations and will give your imagination plenty of material to work with.
If you would like to learn more about Glasslight classes, custom design a special piece, or buy a particular glass item, visit glasslightstudio.com, visit their gallery in St. Peters,  or come by the Galer Estate Winery this Thursday 5-9pm! Proceeds from the art sales benefit Chester County Art Association's New Building Fund.
Happy Holidays! This will be the last show at Galer Estate until March of 2014.
Lele Galer is an artist who has chaired numerous art shows, taught art history and studio art, public art and has chaired, written and taught the Art in Action Art Appreciation series for the UCFD schools for the past 12 years. She worked at the Metropolitan Museum of Art, and wrote for the Asociated Press in Rome.  She has been dedicated to Art History and art education for most of her adult life. Lele and her husband Brad own Galer Estate Winery in Kennett Square and she is President of the Education Foundation and co-Chairs the CCAA's New Building Campaign.