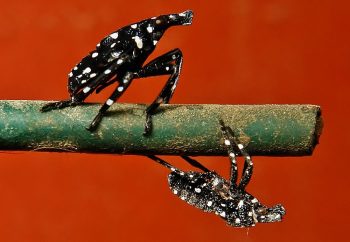 The spotted lanternfly has invaded Pennsylvania, but at the Wines, Vines & the Villain event, you can learn mitigation techniques and how to destroy their habitat while enjoying a complimentary glass of wine.
The event will be offered on two Tuesdays: May 18 and June 22. The winery opens at 6 p.m., and the program begins at 6:30 p.m. Galer Estate Vineyard & Winery is located at 700 Folly Hill Drive, Kennett Square, PA 19348.
Register at https://www.tlcforscc.org/events.
On both dates, guests will learn about the potential of this invader to destroy the wine, beer, fruit, and lumber industries. Guests will learn what you can do to stop damage at home and the workplace.
On May 18, guests will learn about honeybees and the effect of the spotted lanternfly on honey production in Chester County from experts at the Brandywine Bee Company. Meagan Doer, an expert from Penn State Extension, will teach techniques to stop the spread.
On June 22, winemaker Virginia Mitchell will talk about the potential of this invader to affect the wine industry, wine production, yields, and grapevines. A short tour of the vineyards will follow.
The event is sponsored by The Land Conservancy for Southern Chester County. Masks are required at this COVID-compliant event held totally outdoors; please dress accordingly.  Registration is required. A short tour of the vineyards after the lecture may be offered. Guests must be 21 or older to attend.
The rain date is for May 18 is May 27. The rain date for June 22 is June 29.
Tickets are $25 for The Land Conservancy members and $35 for non-members and includes one glass of award-winning wine. Wine bottles and additional glasses of wine will be available for sale.
In its 26th year, The Land Conservancy continues to be passionate about the perpetual preservation and stewardship of open space, natural resources, historic sites, and working agricultural lands throughout Southern Chester County. Proceeds from programs like this help fund land acquisitions and stewardship projects and our efforts to protect the natural beauty of Southern Chester County. Donations of support also help TLC do what it does best – preserve land for future generations!
For additional information or questions, please contact Jennifer Kriesel, development director, at development@tlcforscc.org.