Buyers see prices as too high, sellers too low; sometimes an agent can help bridge this disagreement
By Amy Dettore, Columnist, The Times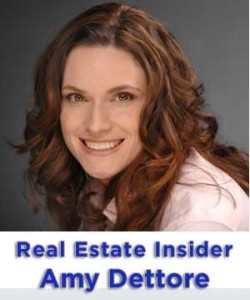 "I got a low ball offer."
I've been selling real estate a long time and I always try to put myself in my client's shoes, to try and understand what they are feeling. Now, I speak from experience and appreciate the disappointment that so many sellers these days have experienced. My husband and I have been trying to sell our investment property now for some time and an investor just came in with a "low ball."
He tried to justify his number with a list of reasons why it's not worth what I am asking. It did feel a bit insulting, especially when I felt like he wasted so much of my precious time. It is so frustrating to be on the receiving end of offers like this. My husband was upset and felt like the buyer tried to take advantage of us.
It then occurred to me that during situations such as this, the real estate agent involved in the transaction is critical. Personally, I try to be the calming force. I believe it is important to listen to a buyers points, evaluate their validity and then attempt to convey the facts to the sellers. Oftentimes, the buyer has some legitimate points that are worth considering.
I have experienced the situation of my buyer clients feeling that they like a property but the price is too high. They make an offer based on what they feel it is worth. The sellers get offended and both parties move on. Then on some occasions, that property does indeed continue to sit on the market. As agents, we don't always have a crystal ball. Real Estate is not a black and white industry. I believe 100% that it takes an effort on both sides to make a transaction a success.
Lately, we have been experiencing some success with the recent "bump" in market activity. We all hope that the recovery continues in the right direction. If you are in the middle of a trying real estate transaction, my advice is to take a deep breath and try to focus on the end result…it should "hopefully" be worth all the stress in the end! In my case, unfortunately, I'm still waiting for the right buyer…
Amy Dettore is a realtor with Prudential Fox and Roach Realtors and resides in Chadds Ford, PA with her husband and six children. She is involved in the community primarily through her children's extra-curricular activities and can be spotted around town on any given day with cell phone in hand and child in tow. When asked, "how do you do it, six kids and work?", her answer has always been, "I don't know, I just do!" Amy has been selling Real Estate for the last 15 years and is appreciated by her clients as being a hard worker, honest, responsive and trustworthy. To learn more about Amy, visit her website: www.AmyDettore.com.