Under proposal, each eighth grader in the district would get an iPad Mini
By Mike McGann, Editor, The Times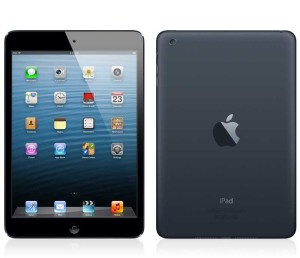 EAST MARLBOROUGH — The Unionville-Chadds Ford School District appears poised to start the process of transitioning to a truly digital educational experience, with eighth grade students in the fall of 2013 likely to be the vanguards of what could be a largely paperless school system by the end of the decade.
District administrators revealed plans Monday to buy iPad Minis for each eighth-grade student in the district in the 2013-14 school year as part of a two-year program to integrate the tablet devices into curriculum. At the end of the year school year, students will be able to purchase the iPads for what officials termed the "residual" cost.
According to Rich Hug, the district's Director of Technology and Communications, if approved by the Board of Education in the 2013-14 budget, teachers will incorporate the devices into virtually all subjects — current pilot programs in the school use iPads for creative writing and geography.
Although there is a $300,000 budget slot set aside for the program, the district's Director of Business and Operations, Robert Cochran said he gave the program a little breathing room for budget planning purposes, it seems unlikely to cost that much.
The purchase of the iPad Minis should cost just less than $100,000 — assuming purchase of some 330 units with volume discount from Apple. There will be additional costs to enhance the wireless network at Patton, teacher training, maintenance and warranty (akin to Apple's Applecare program which replaces broken or damaged units — a likely concern when issued to students).
The estimates range between $150,000 and $200,000, but some of those funds will come back when the units are resold to students at years' end, based on current market pricing if 200 students purchase their units at $150 each (which may be a low estimate of the residual price), the district would be able to recoup some $30,000. In addition while there will be professional development costs, some of that will take the place of other professional development, further reducing the effective cost of the program.
Tim Hoffman, principal of Patton Middle School, expressed excitement at the proposal.
"It makes me want to go back and teach again," he said. "This is a game changer."
Among many benefits, Hoffman cited the ability of students and teachers to immediately go deeper into a subject of interest and help build passion for learning. The devices will also offer the ability for students to record video of their teachers going over lessons — allowing them to repeat them fully and repeatedly if needed. Teachers will also be able to post videos on instruction topics, offering additional educational support. Using tools such as Apple's iBooks Author, teachers will be able to create multimedia-rich textbooks or their own to enhance learning.
Board members, generally if not unanimously, seemed to support the concept.
"I think this is the way education is going to be in the future," board member Holly Manzone said.
Member Keith Knauss offered some concern that the iPads could be a technology dead-end and wanted to see independent studies showing their efficacy in education.
"There have been a number of false starts with technology," Knauss said. "We've seen districts adopt tech devices only to drop them later."
But other members thought the plan might be too modest.
"I'm a little disappointed we're not buying them for all our students," board president Eileen Bushelow said. "I think we're seeing a real change in the education paradigm and we do need to stay up with it."
Member Kathleen Do noted that she expected that all textbooks would ultimately be moved to tablet devices in the next decade and that the district needed to start getting ready.
"If we don't do this, we'll find our district is five years behind," she said.