Virtually all schools and public offices closed, residents advised to stay home
Updated: :5:17 p.m.
By Mike McGann, Editor, The Times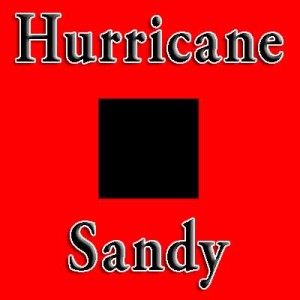 Make no mistake, Hurricane Sandy is coming — headed directly at Chester County, sometime late Monday.
The short form is this: if you can stay home, stay home. Travel is expected to become extremely hazardous as the day wears on, as winds rise and objects become airborne.
At the peak of the storm — stay inside, authorities say. The situation is potentially danngerous.
The storm is expected to make landfall south of Atlantic City at around 6 p.m. EDT. Best estimate for the storm's eye to pass through southern Chester County is somewhere between 9 & 10 p.m. EDT. Those communities slightly north of the eye may face extremely high winds as the northern side of the counterclockwise system pushes through the area.
Power outages are starting to become more of an issue in the Unionville area, as reports of power being out in various locations, including Pocopson, are filtering in. PECO is telling customers that it will likely be unable to even assess damage until after the storm passes through the area sometime Tuesday.
Reports also suggest that US-1 in Chadds Ford is closed, but it is unclear whether it is because of downed trees or flooding. Flooding continues to be an issue, while there now numerous reports of trees being down in the area.
Flooding continues to be a major concern, with high tide expected around 8 p.m. tonight. Those in low-lying areas or flood-prone areas are being asked to evacuate. If you are in a safe place, you're being asked to stay there, as travel is rapidly becoming more dangerous, as winds increase, debris flies and there is an added danger of tree fall.
Check back for updates, we will be adding to this report as the day goes on.
Pocopson Township issued a Declaration of Disaster Emergency for Hurricane Sandy. The Township Emergency Management Coordinator, Richard Jensen, and the Public Works crew have been going door-to-door at the Cabin Club homes along the Brandywine Creek to encourage everyone to evacuate.
Supervisor Steve Conary reports that the township's Public Works staff was out clearing storm drains at the end of last week and yesterday and cleared a tree that came down on Parkersville Road this morning.
DPW director Mark Knightly has arranged for additional personnel if needed to deal with any issues that may arise in the township due to the storm.
Jensen is coordinating with the County and with Longwood Fire Company.
All is reported quiet in Pennsbury, but the Brandywine is expected to crest later this evening and cause flooding of various township roadways.
Local emergency services personnel gathered at various locations in the southern part of Chester County, ready and waiting for whatever the storm would bring.
Longwood Fire Company chief A.J. McCarthy was in his station Monday morning, organizing crews, many of whom will wait out the storm at the facility to be ready to immediately respond when needed. McCarthy said he expected to have as many as four crews on call through Thursday.
But he noted that residents can be a big help by evacuating when ordered to do so and not waiting until it might be too late.
"If people are ordered to evacuate and fail to do so, we might not be able to help them," he said, saying it would be dangerous for people to try to wait out the storm in flood-prone areas.
At the East Marlborough township building, where another command post is set up, township officials are stressing that residents should try to stay off the roads. Already by mid-morning Monday, Route 926 was beginning to show signs of flooding over — the bridge over the Brandywine at 926 was already closed. The peak flooding is expected Monday night, sometime around 8 p.m., forecasters say.
While most roads were passable, winds were beginning to increase as the morning wore on, and branches were falling on roadways. If you must be out, drivers are advised to be very careful and watch out for areas of standing water and debris.
While many area businesses decided to close, a number remained open – especially in the US-1 corridor. The Giant supermarket was open, and although products, such as bottled water, were scarce, the store was largely stocked for those customers making last-minute visits.
A smattering out power outages was already being reported — but that number is expected to rapidly climb as the winds and rains grow in intensity.
The giant Category 1 hurricane storm made the predicted left turn early Monday morning and is slowly moving into The Times area, bringing heavy rain, wind and the potential for widespread power outages and flooding. It is expected to still be a hurricane when it strikes the area late Monday.
If you have news to share or tips, please send them to news@chescotimes.com
As Monday continues, rain and wind will increase as  the eye of the storm passes over Atlantic City and heads almost directly over Chester County. As much as a foot of rain could fall, combined with high tides and full moon, leading to flooding throughout the area. Sustained winds are expected to be as high as 75 MPH — for an extended period of time, as long as 36 hours.
Because trees and branches are expected to be downed, there are likely to be widespread power outages. Government officials are reminding residents to call PECO at  1-800-841-4141. Do not call 911 for power outages, only use that number for emergencies.
The National Weather Service has issued a severe flood alert for most of the county. Drivers — and only those who must be out, should be out — should not drive into flooded roadways.
With all Chester County schools and colleges closed, many business shutting down, local, county and state officials have one message for virtually all residents: stay home. While only the City of Coatesville as of now has a formal curfew — no one is allowed to be out after 7 p.m. Monday night through 7 a.m. Tuesday morning — officials are asking people to stay off the roads if possible. While there are no formal bans on travel, residents are advised to remain in shelter unless absolutely necessary.
Evacuations of people in flood-prone areas are being suggested — with two shelters open in the county, at Avon Grove High School and Lionville Middle School — and could be ordered later on Monday if flood waters rise in some low-lying areas near the Brandywine, Red Clay and White Clay creeks.
The entire Chester County government — except for emergency management and other emergency personnel — is closed: courts, offices and all non-essential operations on Monday and Tuesday.
Across the region, virtually everything is shut down: Philadelphia International Airport is closed on Monday, regional rail service has been suspended and virtually all SEPTA service is suspended.
According to the National Weather Service, Monday looks to be the peak of the storm for southeast Pennsylvania, but the slow-moving nature of the storm means highwinds and rain will persist through Tuesday and into Wednesday.