By Mike McGann, Editor, The Times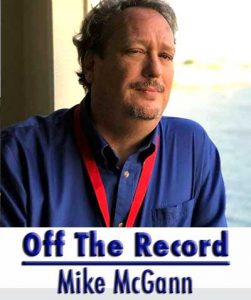 So…so much for putting a stop to writing about stuff.
Despite an ill-advised detour into politics and some mild, annoying and decidedly non-life threatening health issues, not writing was beginning to feel increasingly like not breathing, so here I am again. For now — and obviously everything on this green Earth is really "for now" — I'm going to return to writing for The Times on various topics as I see fit, largely related to the local scene.
Now, with that out of the way, I'm going to argue for an increase in local taxes for most of us — imposed by Harrisburg.
Okay, before you start throwing shoes at me, or firing up Twitter to unleash social media wrath, hear me out.
Right now, many of our local towns depend on State Police for some or all of their police coverage. Currently, the state is looting the highway fund — paid for with gas taxes and driver fees — to the tune of $770 million a year to cover State Police costs. Estimates suggest as much as $200 million a year is being improperly diverted from the road fund to pay for State Police coverage — as determined by a State House committee in 2017.
Gov. Tom Wolf has again proposed in this year's budget to charge municipalities for a fraction of the cost of services, raising about $105 million, which would be then be put back into the road fund to fix crumbling highways. The plan uses a population scale, arguing that larger municipalities shouldn't be freeloading on the state.
Let's use my hometown, Pocopson, as an example: under Wolf's plan, we would pay $17 per person, or $44,472 as a township yearly to help cover our State Police costs. That's three lattes per year per person. I can't argue the fairness of that.
And keep in mind, I've been a proponent of our township joining up with other local townships to provide local police (there are numerous service, community, life saving and home insurance cost benefits to such a regional department) a stance that has safely kept me off of the Board of Supervisors. I also support the idea of regionalized public works, increasing the scale of work done in say, Pocopson, Birmingham and Pennsbury would lead to cost savings and better services, but that's a topic for another day.
And yes, I agree local police is a very heavy burden to ask for small towns — although I see Birmingham, Kennett Township and others manage it just fine. But for the larger municipalities, the failure to fund local police — either through regional departments or contracting with other municipalities — is hurting all of us, through worse roadways, delays and slowed economic development.
A couple of other examples: Upper Oxford Township would pay $25 a head, or $92,150. Elk would see the lowest number, $8 per head, or $13,576. And yes, for some of the larger municipalities that depend on State Police, it would be a big impact:
West Bradford, which has a population of more than 12,000, would be looking at $100 per person charge, or $1.26 million in fees. Keeping in mind that the vast majority of municipalities in Pennsylvania with more than 10,000 residents have their own police, it seems fair to ask West Bradford to live up to its responsibilities — it is fair to ask residents of neighboring Downingtown, with its excellent police department, to also subsidize West Bradford's police service? Hardly.
It would motivate municipalities to start, join or hire police and reduce the burden on municipalities large and small, statewide. We have a mania of being cheap — not frugal or fiscally responsible — but cheap, penny wise and pound foolish as the old saying goes. By being allergic to ever raising taxes — even when those taxes can provide a clear benefit and savings elsewhere — we cheat ourselves.
It's time for everyone to pay their fair share. We'd see safer communities, better roads and economic growth. While Gov. Wolf's plan is not perfect — it's a start.