County opens emergency shelters, storm likely to impact entire county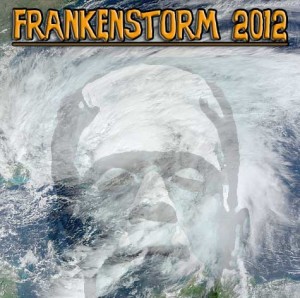 UPDATED: Sunday, 1:34 p.m.
It's big, it looks to be bad and residents are being warned by local, county and state officials to prepare for Hurricane Sandy — dubbed Frankenstorm due its unique composition and the near-Halloween timing of the storm.
Pennsylvania Gov Tom Corbett declared a state of emergency in the state Saturday and Chester County Emergency Services announced the opening of two emergency shelters: Avon Grove High School, 257 State Road, Avondale, and Lionville Middle School 550 West Uwchlan Avenue (Rt. 113) Exton.
Chester County Emergency Services is advising residents who live in a flood prone area, to "please leave now before Hurricane Sandy hits…Go to a family or friend's house that is outside of the affected area and stay there until Sandy goes away.
Unionville Chadds Ford schools will be closed Monday and Tuesday.
According to the National Weather Service, Sandy is expected to crawl up the coast before making a sharp left turn inland. As of Sunday morning the best estimate was that it would make landfall somewhere north of Atlantic City, NJ. The potential for hurricane force winds Monday and into Tuesday is expected across Chester County, with significant rainfall, flooding and downed trees. Forecasters say the storm is an unprecedented mixture of a traditional hurricane system and a winter Nor'Easter. Inland areas in West Virgina and Pennsylvania may even see snow as part of the storm.
The Times will continue to update this story with the latest news and information. Send us any news tips or information at news@chescotimes.com. Assuming local cellular data networks stay up, we will continue to be able to update, regardless of power disruptions in the southern Chester County area.
If you need shelter, county officials are asking residents bring the following items:
• Snacks or comfort food
• Any special dietary foods
• Bedding, pillow, blanket, etc.
• Extra clothing
• Medications and medical supplies
• Personal Care items
• Diapers, infant and elderly/disabled necessities
• Time occupiers; books, magazines, games or cards
Pets can also be accommodated as well. The emergency shelters will be pet friendly with an area designated for pets away from other shelter visitors. Officials encourage that you bring the following items for your pet(s):
• Any medications
• Medical and vaccination records
• Collar, Leash and/or Carrier
• Food
Monday's forecast is similar — with winds expected to increase as Sandy gets closer to the area. Some localized flooding may occur in areas where it is typical, with the Brandywine expected to flood. The worst local flooding will likely come on Tuesday, though with the possibility of high tides mixing with a flood surge from the storm, driving water up local rivers and creeks.
Governmental officials — local, county and state appear to have the same message when it comes to Hurricane Sandy: get prepared, stay informed and be smart.
Chester County emergency management officials issued a statement Friday saying they "strongly recommend preparation and planning by residents and businesses to potentially reduce damage." During a hurricane, the statement continued, homes and businesses, public buildings, roads and power lines may be damaged or destroyed by high winds and floodwaters. Roads and bridges can be washed away by flash flooding or blocked debris.
"The first thing we recommend is to keep informed about where the storm is and where it is headed, by listening to your radio and television or viewing web-based weather sites for the projected storm path," said Chester County Deputy Director for Emergency Management Bobby Kagel.
County emergency management officials are telling county residents to prepare for prolonged power outages, noting specifically to have:
· Flashlights with fresh batteries
· A battery-operated radio with fresh batteries and extra supply of batteries
· Fully charged cell phones and laptops.
· Blankets and warm clothing available to keep warm during power outages — the forecasts do call for cool temperatures next week, making homes without power potentially quite chilly.
Other items to have available, county officials say, are a first-aid kit, non-perishable canned food (and a non-electric can opener), bottled water and essential medicines – enough to last least three days. Also stock up on enough food and water for pets, they say.
One other important thing, this weekend, before the a formal Hurricane Warning has been issued, residents should bring in outdoor furniture, toys, or garden items, to prevent danger or damage if they become windborn. If they cannot be brought indoors, anchor these objects so that winds can't toss them around.
For residents who are in an area that is prone to flooding, be prepared to leave if officials tell you to evacuate. They're telling folks to keep family cars fueled, pack a bag with clothing, sturdy shoes, essential medicines, extra cash and credit cards, flash lights and extra batteries. Residents in flood-prone areas, officials say, should make arrangements for pets as many emergency shelters will not allow pets in for health reasons.
"If Chester County is badly affected by Hurricane Sandy, it will not be as overwhelming if you have a plan," Kagel said.
State officials issued similar warnings, Friday.
Pennsylvania Emergency Management Agency (PEMA) Director Glenn M. Cannon today urged residents of the commonwealth to prepare ahead for the possibility of strong winds, heavy rain and even snow as Hurricane Sandy moves north.
"This storm could combine with another system to bring some combination of snow, wind, rain and flooding to much of Pennsylvania," Cannon said, echoing much of what Chester County Emergency officials are saying. "This is the time to make sure everyone has an emergency kit in their home and car, and an emergency plan for taking care of each other in the event this storm brings its full destructive potential to our state."
For more information on how to make a disaster supply kit and how to prepare for all kinds of emergencies, visit www.readypa.org or call 1-888-9-READYPA (1-888-973-2397).
"Personal preparedness is an essential part of emergency response and recovery," Cannon said. "The fact that we know about the potential threat we're facing several days in advance is a gift that we can all take advantage of, so we can make sure we are ready for whatever comes our way."