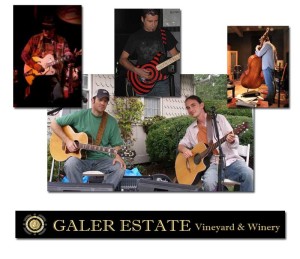 EAST MARLBOROUGH — The Galer Estate Winery plans a summer of fun, acoustic music at Galer Estate Winery, starting this weekend.
Here's the schedule for the summer of 2012:
Mark Decaro of RUST
Friday, June 29     7-9 p.m.
RUST   the Music of Neil Young — a Neil Young Tibute Band
RUST is a group of experienced musicians with great depth in performing over the years since the late 60's. Their passion for the music of Neil Young is clear as they create a memorable experience as close to going to a Neil concert. They recreate the unique acoustic and electric sound of Neil Young,and take you from Neil's early work in the 60's through his current releases.
Greg Orlando
Saturday, July 7  4-7 p.m.
Greg Orlando has been a performer and educator in the Philadelphia Area for the last 7 years. A recent graduate of West Chester University with a Bachelor's in Jazz Performance, Orlando has studied with the likes of bassists Peter Paulsen, Rob Swanson, and Rufus Reid. Greg was recently accepted to the Graduate School at the University of Toronto to study with Dave Young, known internationally for his work with the legendary pianist Oscar Peterson. Currently, Greg can be seen performing as a freelance bassist and vocalist throughout the Philadelphia, Princeton, and Wilmington areas with a wide variety of groups and currently teaches privately from his home in West Grove, PA. Greg can be reached at gregorlandobass@gmail.com.
Bill Hake
Saturdays, July 14 and September 1  from 4-6 p.m.
Hake & Jarema (pronounced HĀk AND Ja-REE-ma) are two music-loving friends who have spent the last decade playing the classic hits of yesteryear at bars, restaurants, weddings, corporate events, and countless backyard parties throughout the Western Philadelphia suburbs and beyond. Our play list consists of over 500 songs from the last 50+ years, spanning many musical genres including classic rock, blues, folk, classic soul, classic country, bluegrass and pop. Our sets vary on a nightly basis and include songs by such artists as The Beatles, Rolling Stones, Allman Brothers, Paul Simon, Jim Croce, Creedence, Hendrix, Van Morrison, CSNY, Johnny Cash, Willie Nelson, Tom Petty, Otis Redding, and Sam Cooke, just to name a few. We play popular tunes with a health dose of "lost classics". And we take pride in respecting the songs while often adding our own twists to make them our own.
Eri Odricani
Saturday, July 21  7-9 p.m.
Eri is a well established musician who has spent half his life as a musician – both in bands in the US and touring around resorts and hotels in Europe. He is comfortable playing a wide variety of music and is currently working on some acoustic versions of newer songs such as "Rolling in the Deep" by Adele. Eri has a large repertoire including both modern (Maroon 5, etc) and more classic pop and easy listening songs.
Skip and Mike
Saturday, July 28 5-7  p.m.
Skip and Mike return with their fabulous smooth jazz to once again delight us with their magic
Darrelle London
Saturday, August 4 from 5-6 p.m.
is a Canadian singer/songwriter. She has toured North America with stops at Lilith Fair and legendary venues such as the Troubadour club in Hollywood. She is a favourite of celebrity blogger Perez Hilton, who writes: "We love the quirky Canadian piano pop singer/songwriter!
Other recent career highlights include placing her music on the 90210 TV soundtrack and collaborating with fellow Canadian Chantal Kreviazuk.