New federal healthy food guideline require healthier but more expensive school lunches
By Mike McGann, Editor, UnionvilleTimes.com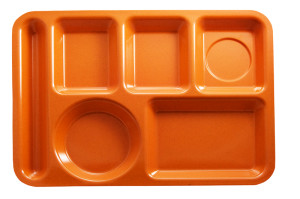 EAST MARLBOROUGH — For the second straight year, school lunches in the Unionville-Chadds Ford School District will be more expensive — but, school officials say, the lunches will also be healthier, thanks to new federal guidelines.
Lunches at district schools will increase by .25 for the 2012-13 school year, assuming the Board of Education approves the boost at next Monday's Board of Education meeting. Elementary lunches will go from $2.25 to $2.50 while middle and high school lunches will go from $2.50 to $2.75. Lunch prices saw a similar increase for the most recent school year, as federal rules requiring healthier – and more expensive food — be served in the nation's school cafeterias.
The Healthy, Hunger-Free Kids Act, championed by First Lady Michelle Obama, requires schools to charge a minimum of $2.46 for federally subsidized lunches, beginning in the 2012-13 school year, UCF Food Service Director Marie Wickersham said.
In addition to higher prices, the act mandates higher-quality, healthier food be served as well. Whole grain pastas and breads will replace white flour items, flavored milk must be skim, and more non-meat protein options must become part of the menu, among other changes Wickersham noted.
"It's more expensive, but healthier," she said.
While the new menus and pricing is likely to be approved, not everyone on the Board of Education was warmly supportive.
"I'm glad Michelle Obama came here to tell us what to feed our children," board member Keith Knauss said during Monday's board Finance Committee meeting, where the price change was discussed.
Other members were concerned about the financial impact — would higher prices mean less students buying school lunch?
"If kids bring in lunch instead, will it effect the ability of the food service department to break even?" board member Holly Manzone asked.
Wickersham said she remains optimistic — that there might be some drop off initially as there was this past year, but that most students currently paying for lunch would continue to do so. And she expressed the hope that this will be the final increase for a while — before last year's hike, prices remained stable for about five years, she said.
"I'm hoping that if we raise prices next year, we won't have to raise them again for several years," she said.
In other district news, Wickersham appears poised to take on a new title: Supervisor of Food Service and Transportation, as her old food service management job is slated to be merged with transportation. Current Supervisor of Transportation Gail Wolfel is retiring. The change in administration structure, the third reduction in school management staff since 2010, is expected to be formally approved Monday night.
Also, district elementary school teachers will be able to attend a special graduate-level math education class at Unionville Elementary, given in conjunction with West Chester University. The class curriculum was developed specifically for the Unionville-Chadds Ford School District.
"This is a good way to focus our tuition dollars," said John Nolen, the district's Director of Curriculum and Instruction.
Finally, the Board of Education is expected to give final approval to the 2012-13 school year budget Monday night. The budget calls for 2.65% tax increase in Chester County and a 1.74% decrease in Delaware County (the difference comes changes in the gross property valuation of the two counties).