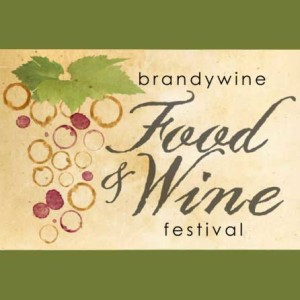 POCOPSON – The first annual Brandywine Food & Music Festival, presented by The Brandywine Valley Wine Trail and The Town Dish,  will be held on  June 9, from 12 p.m. to 6 p.m. at the Myrick Conservation Center on Rt. 842.   The festival will celebrate all things local, from food and wine to music and crafts.
Festival attendees can sample regional wines from fifteen Brandywine Valley area wineries.
"Vintners in this region work hard to produce high quality wines.  Many people do not realize that there are a number of wineries in this area, " said Karen Cline, Administrator of the Brandywine Valley Wine Trail.  "This festival provides a chance to taste, learn about and enjoy local wines."   Wine seminars, conducted by Victor Ykoruk, Pennsylvania's Winery and Vineyard Advocate, will focus on two varietals that excel in the Pennsylvania climate, Chardonnay and Chambourcin.
In addition to local wines, many local foods will be featured.   Jonathan Amann, chef at Amani's BYOB restaurant and two-time winner of Best Chef in Chester County, will be conducting a local wine and cooking demonstration.
Festival attendees can enjoy award-winning local Chester County artisan goat cheeses from Yellow Springs Farm.  Chester County beekeepers will sweeten the day with various types of local honey.  Pike Creek Coffee Roasterie will provide a caffeinated lift with  their  roasted coffees.   All natural hummus with unique flavors will be served up by local FreshaPeel Hummus.   Some of the other  local food vendors will feature chocolates, wood-fired pizza, olive oils, custom spice blends, cupcakes and barbeque.
Local artisans will feature a wide variety of crafts and artwork.  Stained glass, original oil paintings, custom jewelry and handmade dog collars and hand-poured 100% soy candles are just a sampling of what attendees will find.
Music will be provided throughout the day by two local bands.  Big Package is an energetic, show-stopping 10 piece band from Wilmington, Delaware.  They play a variety of music from covers to jazz, funk, R & B and more.   From Chester County, Amy Ash & the Volcanoes puts their own twist on covers, having been described as having an "all-star cast of musicians".
There is something for everyone at the Brandywine Food & Wine Festival," Cline said.   "This festival is a great way to find out about everything local!   There is no better way to spend the day than in the countryside of Chester County, sampling and learning about the region's best local wines, foods, crafts and listening to live music."
In addition to the Brandywine Valley Wine Trail and The Town Dish, the main sponsors for this event are the Chester County Conference and Visitors Bureau, Mainline Today, Delaware Today and Baltimore Glassware Decorators.  "We wish to thank all of our sponsors.  Without their support, we would not be able to bring a festival of this caliber to the Brandywine Valley area," said Cline.
The festival location as chosen because of its natural beauty and its support of local conservation efforts.  The Myrick Conservation Center, home of the Brandywine Valley Association, is 318 acres of preserved land, used for trail walking and horseback riding, picnicking, bird watching and star gazing.  The Brandywine Valley Association works to provide water protection for the 60 mile Brandywine Creek and environmental education for the public.
Tickets for the Brandywine Food & Wine Festival may be purchased in advance by visiting http://www.pawinefestival.com or by visiting any Brandywine Valley Wine Trail member winery .  The tickets include admission, ten wine tastings, access to the cooking demonstration and wine seminars,  live music and ability to participate in live and silent auctions.   Pricing is $10 in advance (ages 21 and over) and $15 at the gate.  Persons aged 10 to 20 years old are $5 in advance or at the gate.   The festival is a rain or shine event.   Ample free parking is available and bus groups are welcomed.
For questions about the Brandywine Food & Wine Festival, contact info@bvwinetrail.com or (610)444-3842.