Unionville had a presence at the PIAA state meet this past weekend at Shippensburg
By Dave Conard  Sports Editor, UnionvilleTimes.com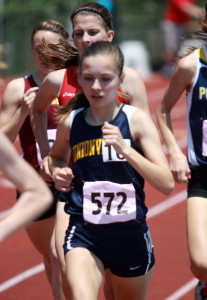 SHIPPENSBURG—It may not have been the exact scripted ending that so many athletes dream of as they are awarded a gold medal, but just having a chance to compete in this past weekend's PIAA State track and field championships is a dream come true for the elite in the Keystone that get an opportunity to compete.
Every spring, the very best runners, jumpers and throwers converge on Seth Grove Stadium on the campus of Shippensburg University to battle for the right to stand on the top of the podium at days end and even though few may emerge from the fray with a state medal, it is an extraordinary honor just to qualify.
Unionville senior Christina Mapa finished second in her qualifying heat but barely missed the final in the 300-meter hurdles, with a state qualifying time of 45.22, which would have been fast enough to claim sixth place overall had she made the final.
Youngster Olivia Young, competing in her first-ever state meet, was un-phased by the thousands of screaming fans as she paced her self to a time of state qualifying time of 5:08.71, which was fast enough to snag sixth place overall had she made the field of twelve for the finals.
The Indians were well represented by sophomore Courtney Smith, as she ran in the 3200-meter run finals, recording a time of 11:15.00 which was good enough for 12thvoverall in the entire state. Smith qualified with a seeding time of 10:57.80 to make the field.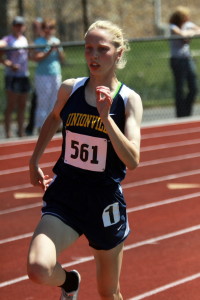 The good news for Smith and two miler through out the state is that Pennridge senior Tori Gerlach, who has owned the event for the past three years, will be graduating in June, opening the door for Smith and others to establish them selves as the new sheriff in town.
Unionville seniors Perry Hopkins and Derek Larson have finished their high school track careers at the pinnacle of their sports, as Larson tied for ninth place overall in the state with a height of 14' 00" in the pole vault.
Hopkins, who won the District title lat week at Coatesville, battled a cross wind to finish 13th in the state with a throw of 172' 01" after qualifying for the big dance with a toss of 195' 00."
The highlight of the weekend for the Indians was the outstanding run of junior Steve Yannacone in the 800-meter run as Yannacone posted a time of 1:54.47, shaving almost two seconds off of his qualifying time (1:56.22) to claim a sixth place PIAA medal.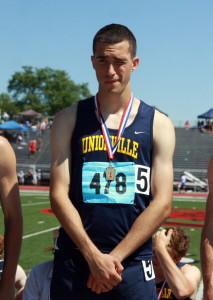 Girls 3200 Meter Run AAA
1 Gerlach, Tori       12 Pennridge 01        10:24.19   10:38.40 SQS               10
2 McGovern, Meghan    12 North Penn 01       10:31.77   10:39.50 SQS                8
3 Rome, Regan         10 Dallas 02           10:56.27   10:44.30 SQS                6
4 Steinke, Kara       10 Methacton 01        10:43.99   10:44.40 SQS                5
5 Stoner, Paige       10 Pottsville 11       10:49.20   10:46.50 SQS                4
6 Eder, Veronica      11 CB East 01          10:47.64   10:52.70 SQS                3
7 Boulger, Kelly      10 Coatesville 01      10:49.53   10:53.40 SQS                2
8 Scott, Kate         11 Council Rck N 01    10:53.61   10:55.40 SQS                1
12 Smith, Courtney     10 Unionville 01       10:57.80   11:15.00
Girls 1600 Meter Run AAA
Heat  1 Preliminaries
1 Sargent, Sara             11 Pennsbury 01         4:57.50    4:55.74QSQS
2 Malone, Margo             12 North Hills 07       4:55.14    4:58.99QSQS
3 Gerlach, Tori             12 Pennridge 01         4:53.18    4:59.01QSQS
Heat  2 Preliminaries
1 Sheva, Marissa             9 Pennridge 01         4:55.70    5:00.32QSQS
2 Greba, Autumn             12 Norwin 07            4:52.41    5:00.34QSQS
3 Harvey, Meghan            12 Oxford 01            4:58.86    5:00.56QSQS
4 Strock, Carol             11 Cmbrlnd Vlly 03      4:58.63    5:00.92QSQS
5 Lindsley, Greta           10 Penn Manor 03        4:57.14    5:00.98qSQS
6 Chikotas, Elizabeth       10 Saucon Valley 11     5:03.62    5:01.54qSQS
7 Hill, Summer              11 Honesdale 02         5:05.20    5:01.83 SQS
8 Eisman, Amanda            12 WC Henderson 01      5:02.52    5:02.64 SQS
9 Van Kleunen, Lucy         11 Central 12           5:05.21    5:04.99 SQS
10 Malone, Mary              10 North Hills 07       5:01.80    5:08.28 SQS
11 Young, Olivia              9 Unionville 01        5:03.09    5:08.71 SQS
Girls 300 Meter Hurdles AAA
Heat  1 Preliminaries
1 Knauer, Kelly             12 CB East 01             45.09      44.31QSQS
2 Mapa, Christina           12 Unionville 01          45.10      45.22 SQS             
3 Graham, Damirah           12 Easton Area 11         44.87      45.50 SQS
4 Williams, Hannah          11 Garden Spot 03         46.29      46.03 SQS
5 Hodge, Diamond            11 Girls' High 12         44.88      46.31 SQS
Girls 300 Meter Hurdles AAA
1 Hayward, Dannah     12 Coughlin 02            44.09      43.37 SQS               10
2 Witmer, Mary        11 Ephrata 03             44.11      43.95 SQS                8
3 Knauer, Kelly       12 CB East 01             44.31      44.88 SQS                6
4 McIntosh, Quiana    11 Pottstown 01           44.71      45.09 SQS                5
5 White, Mikaila      12 Spring Ford 01         44.59      45.14 SQS                4
6 Coley, Kayla        11 Cheltenham 01          44.16      45.51 SQS                3
7 Madison, Erin       12 Pocono Mntn E 11       44.81      45.54 SQS                2
8 Jacques, Sydnee     11 North Penn 01          44.84      46.12 SQS                1
Boys 800 Meter Run AAA
1 Bailey, Wil         12 Penn Hills 07        1:54.28    1:51.87#SQS               10
2 Kunzweiler, Alec    11 Cmbrlnd Vlly 03      1:53.95    1:53.14 SQS                8
3 Stone, Andrew       11 La Salle 12          1:54.28    1:53.53 SQS                6
4 Gerberich, Drew     12 Elco 03              1:56.38    1:53.55 SQS                5
5 Tonzo, Vincent      12 N Allegheny 07       1:56.15    1:54.03 SQS                4
6 Yannacone, Steve    11 Unionville 01        1:56.22    1:54.47 SQS                3  
7 Wiseman, Jeffrey    10 Council Rck S 01     1:56.22    1:54.52 SQS                2
Boys Pole Vault AAA
1 Williams, Chris     12 Strath Haven 01     15-00.00   16-06.00RSQS               10
2 Allison, Jared      12 Dallastown 03       14-09.00   16-03.00RSQS                8
3 Steinbugl, Ryan     12 Altoona 06          15-04.00   16-00.00#SQS                6
4 Mayer, Shawn        12 Palmyra 03          15-00.00   15-06.00 SQS                5
5 Smith, Corey        12 CB West 01          15-00.00   15-00.00 SQS                4
6 Moses, Tim          11 Palmyra 03          14-03.00   15-00.00 SQS                3
7 Hensh, Jacob        12 Laurel Hghlnd 07    14-06.00   15-00.00 SQS                2
8 Moynihan, Dylan     11 Kennard-Dale 03     14-03.00   14-06.00 SQS                1
9 Larson, Derek       12 Unionville 01       14-00.00   14-00.00
Boys Javelin Throw AAA
1 Stanley, Billy      12 South Park 07         227-00  246-09.00RSQS               10
2 Felpel, Kyle        12 Cocalico 03           183-00  203-00.00#SQS                8
3 Proffitt, Cole      11 Manheim Cntrl 03      191-00  200-09.00#SQS                6
4 Waller, Brandon     11 Haverford Twp 01      184-07  193-03.00#SQS                5
5 Smutsky, Bobby      12 Northern York 03      189-10  192-11.00#SQS                4
6 Doster, Robert      12 Middletown 03         200-00  187-10.00 SQS                3
7 Janicki, Anthony    12 Elzbth Frwrd 07       184-02  185-11.00 SQS                2
8 Smorey, Luke        10 Baldwin 07            182-08  184-10.00 SQS                1
9 Wallace, Michael    12 Pottsville 11         178-03  176-00.00
10 Kachelries, Tyler   12 Jersey Shore 04       171-11  175-07.00
11 Hoenl, Nate         12 Whitehall 11          181-01  174-05.00
12 McKee, Riley        12 Father Judge 12       161-01  172-10.00
13 Hopkins, Perry      12 Unionville 01         195-00  172-01.00