The Indians have a contingent going to Shippensburg University next weekend
By Dave Conard Sports Editor, UnionvilleTimes.com
COATESVILLE—On Saturday morning, Unionville senior Derek Larson prepared for the PIAA District One track and field championships like he would pretty much any meet.
Larson, in his last district meet was taking it all in stride, as an absolutely perfect day with little or no wind was presented to he and the best pole-vaulters in the area.
"I felt pretty good coming in here today," said Larson. "My goal was to try to get into the top six somehow to get a chance to go to states."
Sparked by the intensity of an elite group of jumper, Larson did more than qualify for the Pennsylvania State championships to be held in Shippensburg next weekend, he set a new personal record by clearing 14 feet for the first time ever in competition.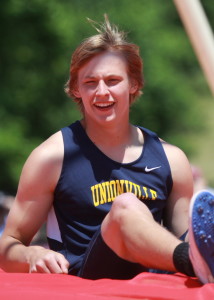 Unionville senior Derek larson reacts to clearing 14 feet during Saturday's District One championship
"I am pretty excited right now, everything just came together today," added Larson, whose previous PR was 13' 7". "I owe this to coach Scott as he has been working with me. I knew I was in states, because I was one of the top six left, so we just pulled the standards back and went for it."
Larson cleared the bar at 14' 0" by several inches but could get over the 14'6" mark, as Central Bucks West vaulter Corey Smith, who also set a new personal best, won the event by reaching a height of 15 feet.
Larson claimed the bronze medal a he was in sole possession of third place.
"It's awesome to get to states in my senior year," said Larson. "We will spend a lot of time this week practicing at 14 feet to get ready for next week at Shippensburg. It will be a lot of fun to be out there with teammates that we can support each other."
High School boy's class AAA Pole vault
1 Smith, Corey              12 CB West               15-00.00 SQS
2 Williams, Chris           12 Strath Haven         J15-00.00 SQS
3 Larson, Derek             12 Unionville            14-00.00
4 Harcher, James            12 Quakertown            13-06.00