Unionville boys making a STATE-ment of their own 
By Dave Conard SportsEditor, UnionvilleTimes.com
COATESVILLE—On Saturday at Red Raiders Stadium, there was what seemed like an endless parade to the medal stand, for the boys and girls clad in the blue and gold of the Indians.
Early on in the day pole vaulter Derek Larson set a new personal best by clearing 14 feet to punch his ticket to the PIAA State championship meet at Shippensburg University, and that was just the start of good news for the Unionville team.
Perry Hopkins, fresh off his last Penn Relays performance at the high school level, came into Saturday's action as one of five boys that realistically had a chance to claim gold, and after the dust cleared it was Hopkins that was standing atop of the podium with the District One first place hardware around his neck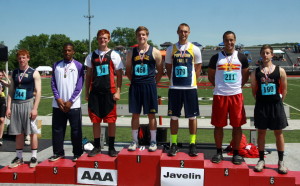 "I am very happy," said Hopkins "I had such a brain dead performance at the Penn Relays. I was a head case down there, I just thought too much and let my head get in the way. I just came in here and had fun and let it fly."
Hopkins' throw of 195' 0 " may not have eclipsed his personal record of 208' 4", but it was strong enough to surpass Pope John Paul II stand out senior Jacob Gribb and a throw of 190' 0".
"I just wanted to do my best here and enjoy my last time at districts," added Hopkins. "The best thing about District One is that most of the best in the state are here, so it really helps when you get to the state meet. It's going to be great to have so many teammates out there."
The winning didn't stop with Hopkins as 800-meter specialist Steve Yannacone qualified for the state meet on Friday then blew away the field which had some very highly touted runners in it, including state champion Drew Magaha from Upper Moreland.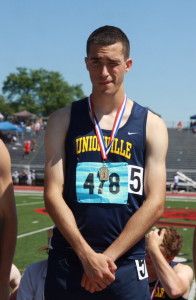 "I'm excited about qualifying for the state meet, but really we are just running around a track a couple of times," said Yannacone, who had a very interesting point of view on the importance of athletics in general. "It's not like we are solving any of the world's problems or saving any one. We get all bunched up because every one is so good at this level. It is such a hype competitive environment, you just can't let it get to you."
As a team Unionville finished eighth over all with 26 points.
Event 701  Boys 4x800 Meter Relay AAA
Preliminaries
  1 West Chester Henderson                              7:59.03QSQS
  2 Upper Darby                                         7:59.46QSQS
  3 Pennridge                                           7:59.23QSQS
  4 Bensalem                                            7:59.78QSQS
  5 Downingtown West                                    7:59.51QSQS
   19 Kennett                                             8:21.21
  24 Unionville                                          8:27.67    
Event 702  Boys 110 Meter Hurdles AAA
Semi-Finals
  1 Willett, Aaron            12 Coatesville              14.19QSQS     0.4  2
  2 Zaza, Wellington          11 Strath Haven             14.37QSQS     1.0  1
  3 Hairston, Maxmilian       12 Wissahickon              14.32QSQS     0.4  2
Event 702  Boys 110 Meter Hurdles AAA
Finals
  1 Williams, Chris           12 Strath Haven             13.82 SQS     1.1
  2 Zaza, Wellington          11 Strath Haven             13.86 SQS     1.1
  3 Willett, Aaron            12 Coatesville              13.94 SQS     1.1
  4 Hairston, Maxmilian       12 Wissahickon              14.25 SQS     1.1
Event 703  Boys 100 Meter Dash AAA
Preliminaries
  1 Gillespie, Ronnie         12 Upper Perk               10.65QSQS    -2.3  3
  2 Hynes, Ryan               12 CB South                 10.72QSQS    -1.2  1
  3 Coker, Daquan             12 Perk Valley              10.78QSQS    -4.3  5
   17 Lowe, Cj                  11 Kennett                  11.13        -4.3  5
Event 705  Boys 400 Meter Dash AAA
Preliminaries
  1 Stiles, Johnathon         12 Penn Wood                49.13QSQS               3
  2 Hardy, Troy               12 D-Town West              49.44QSQS               2
  3 Hackett, Corey            12 Hatboro Horsham          49.45QSQS               1
   17 Peabody, Francis          10 Unionville               51.50                   1 
Event 706  Boys 4x100 Meter Relay AAA
Preliminaries
  1 Neshaminy                                             41.91QSQS               4
  2 Cheltenham                                            42.03QSQS               1
  3 Central Bucks South                                   42.04QSQS               2
  4 Strath Haven                                          42.45QSQS               3
  5 Pennsbury                                             42.53qSQS               1
  12 Coatesville                                           43.29 SQS               2
 15 Kennett                                               43.61                   3
21 Unionville                                            43.96                   2
Event 707  Boys 300 Meter Hurdles AAA
Preliminaries
  1 Hynes, Ryan               12 CB South               * 37.23QSQS               2
  2 Futch, Eric               12 Penn Wood                37.78QSQS               3
  3 Zaza, Wellington          11 Strath Haven             38.01QSQS               1
  4 Willett, Aaron            12 Coatesville              37.86QSQS               2
Event 707  Boys 300 Meter Hurdles AAA
Finals
  1 Futch, Eric               12 Penn Wood                37.08*SQS
  2 Wahlman, Paul             12 CR North                 37.43 SQS
  3 Zaza, Wellington          11 Strath Haven             37.60 SQS
  4 Hairston, Maxmilian       12 Wissahickon              38.21 SQS
  5 Hynes, Ryan               12 CB South                 38.42 SQS
  6 Willett, Aaron            12 Coatesville              38.54 SQS
Event 708  Boys 800 Meter Run AAA
Preliminaries
  1 Chaborek, Aj              11 WC Henderson           1:54.93QSQS
  2 Magaha, Drew              12 Upper Moreland         1:55.35QSQS
  3 Rivera, Brad              11 Bensalem               1:57.37Q
  4 Wiseman, Jeffrey          10 CR South               1:55.12QSQS
  5 Yannacone, Steve          11 Unionville             1:55.86QSQS              
Event 708  Boys 800 Meter Run AAA
Finals
  1 Yannacone, Steve          11 Unionville             1:54.18 SQS              
  2 Rivera, Brad              11 Bensalem               1:54.92 SQS
  3 Chaborek, Aj              11 WC Henderson           1:55.71 SQS
  4 Huemmler, Jack            11 Strath Haven           1:55.80 SQS
  5 Wiseman, Jeffrey          10 CR South               1:55.91 SQS
  6 Scripture, Avery          11 Upper Perk             1:56.16 SQS
  7 Kohler, Austin            12 Pennridge              1:56.34 SQS
  8 Garton, Dave              10 Perk Valley            1:56.40 SQS
Event 709  Boys 200 Meter Dash AAA
Finals
  1 Futch, Eric               12 Penn Wood                21.23*SQS     1.8
  2 Gillespie, Ronnie         12 Upper Perk               21.24*SQS     1.8
  3 Smith II, Kevin           12 Coatesville              21.68 SQS     1.8
  4 Thompson, Mark            11 Cheltenham               21.84 SQS     1.8
Event 711  Boys 4x400 Meter Relay AAA
Finals
  1 Bensalem                                            3:17.67 SQS
  2 Penn Wood                                           3:17.76 SQS
  3 Pennridge                                           3:18.08 SQS
  4 Pennsbury                                           3:20.53 SQS
  5 Coatesville                                         3:20.83 SQS
Event 712  Boys High Jump AAA
  1 Brandt, Andrew            12 Marple Newtown         6-08.00 SQS
  2 Ramsey, Jalen             12 Norristown             6-05.00 SQS
  3 Dawson, Derek             12 Ridley                J6-05.00 SQS
  11 Kimbrough, Detrick        11 Coatesville           J6-01.00
Event 713  Boys Pole Vault AAA
  1 Smith, Corey              12 CB West               15-00.00 SQS
  2 Williams, Chris           12 Strath Haven         J15-00.00 SQS
  3 Larson, Derek             12 Unionville            14-00.00                  
  4 Harcher, James            12 Quakertown            13-06.00
  5 Esposito, Vincent         11 North Penn           J13-06.00
   -- Pedrick, Tyler            12 Coatesville                 NH
Event 714  Boys Long Jump AAA
  1 LaCroix, Harley           12 Cheltenham            23-05.25 SQS     NWI
  2 Hynes, Ryan               12 CB South              22-03.00 SQS     NWI
  3 Andrews, Travis           12 Phoenixville          22-01.25 SQS     NWI
  11 Royal, William            11 Coatesville           20-09.00         NWI
 19 Thomas, Shaquille         11 Coatesville           20-02.25         NWI
Event 715  Boys Triple Jump AAA
  1 Zaza, Wellington          11 Strath Haven          49-08.00 SQS     NWI
  2 LaCroix, Harley           12 Cheltenham            47-02.00 SQS     NWI
  3 Dawson, Derek             12 Ridley                45-07.50 SQS     NWI
  22 Stocker, Jay               9 Coatesville           41-07.00         NWI
 23 Thompson, Steve           10 WC Henderson          41-06.50         NWI
 23 Rochester, Melik          10 Kennett               41-06.50         NWI
  29 Anderson, Jebiz           12 Coatesville           40-05.50         NWI
Event 716  Boys Shot Put AAA
15 Morgan, Dylan             11 Coatesville           47-01.50
 16 Manigault, Marcus         12 WC Rustin             45-02.00
Event 717  Boys Discus Throw AAA
  1 Hart, Ryan                12 D-Town East          183-07.00*SQS
  2 Kpassagnon, Tanoh         12 Wissahickon          151-07.00
  3 Muroski, Darrik           10 Coatesville          149-08.00
  4 Mao, Evan                 12 Upper Dublin         148-03.00
  5 Herbster, Dan             11 Garnet Valley        147-10.00
  9 Morgan, Dylan             11 Coatesville          141-01.00
 10 Swanick, Jimmy            11 Springfield Delc     139-01.00
 -- Hopkins, Perry            12 Unionville                FOUL                  
Event 718  Boys Javelin Throw AAA
  1 Hopkins, Perry            12 Unionville           195-00.00 SQS              
  2 Gribb, Jacob              12 Pope John Paul       190-00.00 SQS
  3 Shalaway, Ethan           11 Boyertown            187-02.00 SQS
  4 Waller, Brandon           11 Haverford            184-07.00 SQS
  5 John, Jason               11 Upper Darby          174-06.00
  15 Pancoast, Tom             11 Unionville           162-03.00                  
 15 Fox, Tyler                11 Upper Dublin         162-03.00
 17 Hodgkiss, Greg            12 Phoenixville         155-04.00
 18 Miles, Rahjeir            11 Coatesville          155-01.00
                  Men - AAA - Team Rankings - 18 Events Scored
    1) Strath Haven                71        2) Bensalem                   48
    3) Penn Wood                   42        4) Hatboro Horsham            34
    5) Central Bucks South         30.83     6) Wissahickon                28
    6) Cheltenham                  28        8) Coatesville                26
    8) Unionville                  26       10) Council Rock North         25