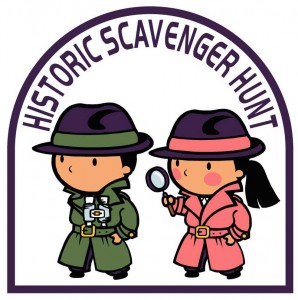 CHADDS FORD — The Kennett Square and Chadds Ford region has been blessed with a rich heritage- from the Battle of the Brandywine on September 11th, 1777 to the local "village historian" Chris Sanderson and the Wyeth family of artists who've depicted both the history and beauty of the region in their paintings over the last 100 years. This heritage is on display at several local venues, including the Christian Sanderson Museum, the Chadds Ford Historical Society and Brandywine Battlefield Park. Children will get several opportunities to learn more about our local history with three fun events starting in June 2012.
The Phyllis Recca Foundation, a non-profit entity which supports children's initiatives is sponsoring three Historic Scavenger Hunts for kids ages 9-14. The hunts are scheduled for June 3rd at the Chadds Ford Historical Society, July 22nd at Brandywine Battlefield and August 19th at the Christian Sanderson Museum. All events will feature questions about interesting items of historical significance specific to each location. Each venue has a wide variety of artifacts which visitors can view in learning more about their local heritage and traditions. Those who answer all questions correctly will receive a prize and a Certificate of Achievement. Boy scouts and girl scouts who participate can earn a merit badge.
Each scavenger hunt is "weather friendly" and held indoors. The cost is $3 per child; members of each organization may visit the location at no charge. The hunts take place on each scheduled date from 1-4 p.m.; parents or guardians are required for supervision. For more information, please visit www.phyllisreccafoundation.org or contact each venue for details. A Summer of fun and learning is ahead for children and parents in the area! The general public is invited to attend.