To The Editor: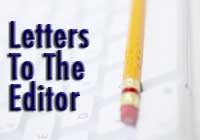 State Rep. Chris Ross, a Chester County Republican, introduced House Bill 2191 last month, a bill that would legalize Payday or cash advance loans in Pennsylvania. (A payday loan, or cash advance loan is costly quick fix to families living on the edge. The Federal Trade Commission calls them, "costly cash" these are small (usually $50 – $500) short term loans with very high interest rates) this predatory lending practice preys on low-income consumers who could end up with an annualized debt of up to 419 percent.
This bill would legalize a form of high-interest lending is currently not permitted in Pennsylvania. In a 2010 unanimous State Supreme Court ruling decided that out-of-state lenders had to follow Pennsylvania's banking regulations if they wanted to do business here and that ruling effectively eliminated predatory lending in Pennsylvania. While those lenders weren't technically outlawed, there were strong enough regulations created by the state-banking department to limit their desire to work in Pennsylvania. One example of appropriate state regulation was to limit these lenders to a maximum of 24% annual interest rate.
Of course the 2010 ruling didn't stop payday lenders from lobbying legislators to allow them to bring predatory lending business to Pennsylvania and Mr. Ross jumped in to work to bring the high-interest lending to our state even though the Pennsylvanian banking department has consistently declared it to be unacceptable and illegal. In 2010 Secretary of Banking Steve Kaplan said, "Payday lending is a scourge that takes advantage of financially strained individuals and traps them in a downward spiral of poverty and debt. We will continue to utilize all of our resources to protect Pennsylvanians from this trap regardless of where the lender may reside."
Rep. Ross argues in a memo that HB 2191 has "the strongest consumer protections available in other states that regulate the practice" it is not enough to protect those folks who can least afford this kind of predatory lending. While it is true that people could find these types of loans on the internet it is also true that more than 40% of people who have incomes under $30,000 per year do not have access to the internet and those people are those who are most likely to turn to these lenders, and yet, Rep. Ross wants to give these high interest businesses the ability to physically move into Pennsylvania and victimize low-income borrowers.  Pennsylvania deserves better than this.
Susan F. Rzucidlo,
New Garden
Democratic Candidate for Pa House 158th District.