April 28 concert features Philadelphia-area premiere of classical work, plus pop hits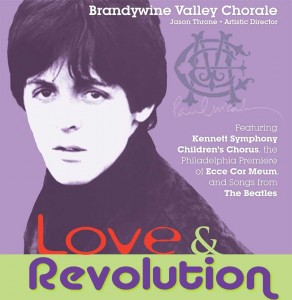 WEST CHESTER — In its fifth season, The Brandywine Valley Chorale (BVC) presents Love & Revolution, The Music of Paul McCartney
Led by Artistic Director Jason Throne, the BVC's Spring Concert will be performed on Saturday, April 28 at 7:30 p.m. at Calvary Lutheran Church, 730 South New Street, West Chester.
Featuring the music of Paul McCartney and the Beatles, this concert marks the Philadelphia Premiere of Sir Paul's Classical Work Ecce Cor Meum. Joining the Brandywine Valley Chorale is the Kennett Symphony Children's Chorus (KSCC), lead by Artistic Director, Dr. Kristen Albert.
"The Kennett Symphony Children's Chorus is honored to be invited to perform Ecce Cor Meum, " Albert said. "Although the work is difficult, it has beautiful, singable lines. McCartney's text underscores the fact that while tragedy and sorrow are inevitable, music embodies beauty, grace and love and it is our gift to be able to share our hearts through music. The young choristers are intrigued to perform a work by an artist who they associate with the Beatles of the 1960's. They love the piece."
In choosing the repertoire for the concert, Throne said, "In designing this program, I sought to highlight a contemporary composer whose works span different genres and generations, and Sir Paul fit the bill. The classical work is a marvelous complement to the popular songs of the Beatles and the inclusion of the Kennett Symphony Children's Chorus ensures that the tapestry of the music is multi-generational, as Sir Paul intended — and that is sure to be a unique experience for both the performers and audience. Tickets are $15 for adults, $10 for students, and are available online and at the door. To purchase tickets, please visit www.thebvc.org.
The Brandywine Valley Chorale is a 40-member auditioned chorus founded in 2007 by a group of musicians, arts supporters and friends in the Unionville area and surrounding communities. Founder and Artistic Director, Jason Throne, received his Masters in Choral Conducting at Temple University and has worked with renowned conductors including Robert Page, Joseph Flummerfelt, Vance George, Marvin Hamlisch, John Rutter and David Zinman. He is Choral Director at Unionville High School.
The Kennett Symphony Children's Chorus is a 90-member, auditioned chorus for girls and boys ages 5 to 18. An educational outreach of the Kennett Symphony of Chester County, KSCC gives qualified singers an opportunity to perform high-caliber, age-appropriate repertoire that is
culturally and musically diverse while nurturing vocal and musical development within an ensemble setting. Artistic Director Dr. Kristen Albert is a professor of Music Education at West Chester University. The Kennett Symphony Children's Chorus is celebrating its 22nd year and its fifth year in residence at West Chester University.