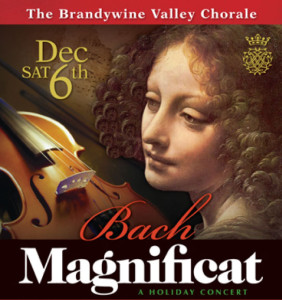 EAST MARLBOROUGH — In the spirit of the joyous season, the Brandywine Valley Chorale (BVC) warmly invites you to their holiday concert. This evening of beautiful music will be held on Saturday, Dec. 6 at St. Michael Lutheran Church in Unionville at 7:30 p.m.
Accompanied by orchestra and organ, the choir's centerpiece is the Bach "Magnificat", a musical setting of the biblical canticle taken from the book of Luke. In addition, the chorale is premiering a new work, "Sheperd's Song At Christmas". Local artist, David Bennett Thomas has taken the words of Langston Hughes' writing and set them to an original score.
Delight in the ringing of St. Michael's Jubilation Ringers Handbell Choir and join in the traditional Carol Sing Along.  Other festive selections include Handel's "Hallelujah", Vaughn Williams "Wassail Song", Dan Forrest's "O Come, All Ye Faithful", and an arrangement by Fred Bock, "Peace, Peace".  Complete the evening with friendship and light refreshment in the Fellowship Hall.
For more information on the Brandywine Valley Chorale, check out their website at   thebvc.org. Purchase your tickets online or at the door – Adults: $15, Students: $10