By Daniel Block, Special to UnionvilleTimes.com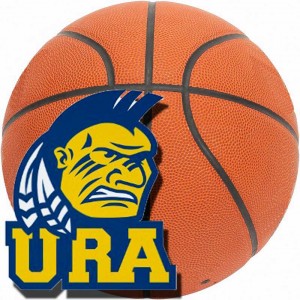 EAST MARLBOROUGH — The playoffs have arrived for the Unionville Recreation Association girls Senior (grades 6-9) basketball teams and that means just one thing now: win or go home.
ROUND ONE, SENIOR GIRLS DIVISION SINGLE ELIMINATION PLAYOFFS

Game 1: VOLS SLEEPWALK THROUGH ANOTHER WIN
Tennessee Lady Vols 18, Texas A&M Aggies 8
NBA coaching legend Larry Brown always preached about playing "the right way," and by that he meant defense first and solid fundamentals. It's a given, though, that putting the ball through the net is also necessary. Both teams lived up to the Larry Brown standard regarding defense, but they must not have gotten the memo about scoring. The offensive game of both teams was, well, offensive. The Lady Volunteers also were short three volunteers for duty tonight and after 3 innings, er, quarters they had a 10-6 lead. The Aggies struggled with the vaunted Kaiser trap at half court and if it weren't for that, the Aggies may have begun to plow some major field as Olivia Mason looked poise to break out. She finished with 5 points to lead the farm. E-Train Koehler was similarly derailed, hitting her lone bucket in the 3rd quarter. Carolyn Sirles, who showed steady improvement all season long under the enthusiastic coaching of Coach Gross hit one of two from the line and blocked a shot for the Aggies.
Tennessee didn't have much more firepower, leaving a lot of points on the court as numerous shots went flat. But then, rushing in from a special Black-Ops assignment, Covert-Ops took charge in the second half, Sarah Covert had her hands full managing all the ball handling duties, though she did score two points. Big Sis Ellie scored 11 points, including 8 in the 4th quarter, which has become a Tennessee trademark this season. She also had a blocked shot in the winning effort. Caroline Kaiser had 4 points and 4 blocked shots and in general made life in the paint a miserable shade of gray for the Aggies.  Annika Twombly went one of two from the stripe.   Of note was that Elana Lindner showed her much improved ability for handling the ball when she was showcased in the 4th quarter, as scouts were present already scoping out the draft for next year. The Vols will meet the Maryland Terrapins on March 8 for semifinal round game.
Game 2: CLAWLESS BEARS CAUGHT HIBERNATING
Maryland Terrapins 27, Baylor Lady Bears 12
Maryland returned to its winning ways to remain alive in this single elimination version of March Madness and they did it shorthanded. Coach Burke unleashed the beast early and Jess Hussey responded with a monster game, hitting from outside and inside for 12 points while blocking 2 shots and hauling in 10 rebounds to earn a double-double. She had help tonight, as Sophie "Supersonic" Schenk had it going on both on the defensive end and on offense. The Swift One scored 8 points but more importantly blocked a shot, grabbed 7 rebounds and had 4 steals for Coach Burke's Terrapins. Taryn Burke played her typical complete game and scored three points, while Carolyn "The Ranger" Granger also hit for two and was a major pest on defense the entire night. She dished out 5 assists. Alexa Hussey, tired of hearing big sister Jess tell her when, where and how to shoot began launching treys and though none dropped, she did hit for a deuce.
On the Baylor side of things, Coach McGinnis came early, prepared with her rotations and game plan, but she forgot to book enough tickets on the Coast-to-Coast plane and the Bears resorted to picking their claws instead of flashing them at their opponents. The Bears were down 9-0 at the half and this one had the makings of a repeat of the earlier game. They came out of their cave in the 4th quarter, but it was too late, as they were down 19-4 to start the final 10 minutes. Sam Pancoast finished as their leading scorer with 10 points and hauled down 8 rebounds. Dr. Z had one bucket and pulled down 10 rebounds while Maggie Shafer was kept off the stripe. She did haul down 8 rebounds. The Tennesse Lady Vols await the Terps for their semifinal game on Thursday.
Tuesday's Games:
Tuesday, at Pocopson Elementary School:
7 PM: Notre Dame Fighting Irish vs Miami Hurricanes
8 PM: UNC Tarheels vs UConn Huskies