To The Editor: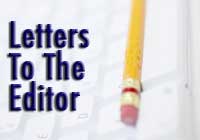 "A sign on the stairs announced restricted access to Corbett's office and the offices of Democratic and Republican State House members… …Lawmakers, legislative staffers, executive branch employees, lobbyists (emphasis added) and journalists are among those issued the cards."
"Restricting public access to the Capitol during rallies is part of a new policy by the Corbett Administration."
"The Capitol building has been locked down and barricaded, specifically, the building's elevators, to keep the activists from getting inside."
These are headlines and quotes I would never have thought I would see in America and yet this is exactly what happened March 1 in Harrisburg.  Imagine, in Pennsylvania, the birthplace of our constitution, and the right of people to peacefully assemble has been restricted and denied to our citizens! What is happening and why haven't our Legislators stepped up and fought for the people they were elected to represent?
I call on every State Representative and Senator to let the Governor know that they oppose restricting the peoples right to access the peoples house, our capitol building. This action denied people the right to visit their legislator, our Governor denied people the right to peacefully assemble and protest.   Our elected officials need to let us know now, do you work for the people and will you defend our rights?
                                  Susan F. Rzucidlo
Candidate  for the PA House 158th PA House District