By Dan Block, Special to UnionvilleTimes.com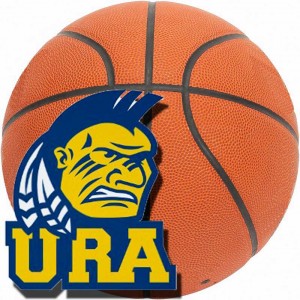 POCOPSON — The season is coming down to the final week in the Unionville Recreation Association's Girl's Senior Division – Grades 6-9, which plays weekly at Pocopson Elementary School. Here's a look at last Saturday's action:
Game 1: 'CANES RIDE THE JET STREAM EN ROUTE TO FIRST VICTORY!!
**GAME OF THE WEEK**
Miami Hurricanes 25, Texas A & M Aggies 23,
The Hurricanes stormed into the Shadowlands Stadium with high winds and hail the size of basketballs as the reigned supreme in this nail biter of a game. Though super-guard Jet Lattari seemed to have clogged engines early, she sparked a second half run to help her team break a halftime deadlock and gain its first victory. When she went for maintenance on her engines after the game, she was found to have been running hot all game, as in feverishly hot, though reports from her home base note that she has since cooled down and is recharging her engines as this is being written. She lead the 'Canes with 12 points, 10 of which came in the second half. This time, though, she had plenty of help.
Rising star Alexa Conroy said "enough of this losing already," and almost single-handedly willed her team to keep pace, contesting every loose ball, grabbing rebounds (team high 10 rebounds to go along with 4 points) and showing a developing game in the paint to go along with quick hands that deflected nearly as many Aggie passes as she stole. Erin Garvey continues to show why her jersey number should have been three, as she nailed another bomb. Collette "The Collector" Savant hauled down 6 rebounds to go along with 4 points and a blocked shot. Ivy League Yen added a bucket for the winners today and continued to play stringent defense for Coaches Kenz & Dana & Mort.
The Aggies fell behind 8-2 after one quarter, but then suddenly bells were ringing because the Mason jar was full again, as first round pick Olivia Mason arrived and quickly deposited 4 points while having an immediate impact on the pace of the game, which awakened her torpid teammates. Hannah Garver had her lone bucket in the first quarter, but Meghan Gross had hers in the second while E-Train Koehler had 2 of her 6 points in that same quarter.
For good measure, Carolyn Sirles said "me too" with her lone bucket that quarter. She also blocked a shot and pulled down 4 rebounds. Meredith Welsch had 3 points and Olivia Mason finished the contest with 8 points, but in the end, the Aggies could not withstand the storm. The 'Canes left the building victorious for the first time but they left the high winds lurking behind. More on that later.
Game 2: TERPS SHOW UCONN IS ALL BARK, NO BITE
Maryland Terrapins 24, U Conn Huskies 15
After losing four in a row, Maryland now has its second two game winning streak at the expense of the Huskies, who had to deal with having the services of star guard Grace Schrof for only a quarter. The younger Schrof was a game day decision due to plantar fasciitis, though hopefully she will be at full strength as we head into the playoffs.
UConn again had trouble finding the net. Riley Schrof once again had to carry her team and the opposition, who for the second game seemed to be draped all over her shoulders. She scored 6 points, blocked 4 shots and hauled in 10 rebounds. Molly Hutter had 4 points, Amanda Yi and Cara Freedman 2 apiece and Jillian Brislin went 1 for 2 from the stripe for the Huskies.
For the Terps, they were out of their shells while busy shelling the Graceless Huskies as they evened their record at 4-4 and reclaimed 4th place in the league. Jess Hussey dropped in 13 points, blocked 3 shots, and grabbed 11 rebounds, but struggled from the line today (1 for 9). Sophie Schenk (4 points), Caroline "Ranger" Granger (2 points, 5 assists) and Taryn Burke (3 points) rounded out the scoring for Maryland.
Game 3: TARRED AND BATTERED BUT STILL PRETTY IN GREEN
***GAME OF THE WEEK – VERSION 2***
Notre Dame Fighting Irish 26, UNC Tarheels 25
This one looked like another stroll through fields of clover and by the end of the first half, Coach Carlow was certainly feeling sweet as honey as his squad barely had to fight to gain a 15-5 halftime lead. But Coach Scheuer, ever steady and one of the best at halftime adjustments, gathered the troops and said, "now we have 'em right where we want 'em."
Notre Dame outscored the tarry-eyed wonders anyway in the 3rd quarter, but only by 4-2, but then the mood on the Irish bench went black as tar as the Lapsczynski-Samulewicz Connection arrived, late but full of fire. The dynamic duo, who provided all the scoring for UNC in the first half, kicked it into high gear with 18 points in the 4th quarter.
Kathleen Lapsczynski finished with 10 points and Gabby Samulewicz 13. Hannah Bass had her lone bucket in the 3rd quarter. UNC actually was up by a point with just 9 seconds remaining. Coach Carlow designed an in bounds play to get the ball into the hands of Kacie Breeding and his team executed. Breeding was seemingly going to be trapped in the corner, but she showed her good breeding by escaping and with 4 seconds she lofted a shot that fell through the net to put an end to this nail biter and preserve the undefeated record for Notre Dame.
More amazingly, she did it while battling foul trouble (4 fouls) and finished the game with 16 points. Ava Carlow and Frankie Manriquez chipped in with 4 points apiece and Sophie Detweiler had 3 points to round out the scoring for the Irish.
Game 4: WARNING – DON'T FEED THE BEARS AFTER DARK
***UPSET ALERT***
Baylor Lady Bears 23, Tennessee Lady Vols 20
This one had the makings of a typical Tennesse game – low scoring, defense-dominated, with the Vols usually pulling it out in the fourth quarter after wearing down one opponent after another with the feared Kaiser Trap. But today, that did not equal bear trap, as Coach McGinnis resorted to her own dark arts to counteract Covert Ops. Showing why you should be afraid – very afraid – of encountering a bear after dark, Coach McGinnis pushed her team to take advantage of the twilight that settled over the gym after high winds knocked out the power.
Playing under emergency lighting from the building's generator, the Bears-turned-Vampires bit into the hapless Volunteers all the way till the final whistle sounded. Mysteriously, the lights turned back on almost as soon as the game ended. Baylor road the Coast-to-Coast flight as Sam Pancoast deposited 12 points and spent much of the waning moments at the foul line. She finished the day 4 for 6 from the line. Dr. Z (Olivia Zubillaga) was missing in action due to other contractual obligations, but basketball is a team game and when one player is down or not available, someone else has to step up.
Today it was Maggie Schaefer, who stepped up and had a career day with 6 points (4 for 5 from the stripe) but more importantly 2 blocks and 8 rebounds. Maddie Knightly added a bucket while the youngest McGinnis in URA "Elettrafied" the house with her growing boldness and lightning quick reflexes. Time and again the Electric One slashed into the lane; she finished with 3 points and a bundle of assists and also had 3 key steals to help preserve the victory as well as the peace at home, as big sis Coach Sienna McGinnis had to be delighted with her sibling's rivalry on the court.
For Coach K, whose squad remains firmly ensconced in second place despite suffering their second loss, Covert Ops deposited 14 points, with Elder Ellie finishing with 8 points before fouling out in the dusk and gloom of the late afternoon while Sister Sara had 6 points. Caroline Kaiser also had 6 points, showing a deft perimeter shooting touch that the Vols will need a lot more of to go deep in the playoffs. She also grabbed a team high 8 rebounds and blocked 4 shots.
LEAGUE NOTES
One more week and the regular season ends. Playoff schedules will be announced after next week's games.