Senior boys' hoops playoffs under way, with 14 teams battling for league title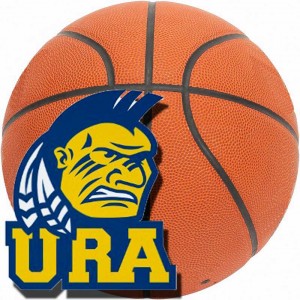 By Brian Ladd, Special to UnionvilleTimes.com
EAST MARLBOROUGH — It's that time of year again.
No, we are not talking about the Winter that never came. We are not even going to discuss what that little rodent from Punxsutawney had to say. We're talking about the Madness – URA Basketball March Madness!
At this time each year, from the depths of the Patton Middle School gym emerges one of the most wildly anticipated extra-curricular activities the Unionville High School Boys participate in annually. March Madness has arrived. For the High School Boys, it's a double-elimination fantasy come true. 14 teams vying for the coveted Championship hoodie they can wear proudly every day for a month without washing it.
For our Seniors, this is the end of their URA basketball experience. On some occasions, tears flow after that second tourney loss and they realize it's all over. Having played URA hoops since the 3rd grade for most of these players, it's an emotional time. Personally, I have seen these men grow up on the basketball court. I can remember vividly the times these same players would be so angry at their teammates and themselves back in the 5th grade because that shot they missed just cost them a D1 scholarship opportunity, to now when they are laughing at each other for the missed shot and high fiving their opponent for making a nice play.
This version of March Madness draws more fans than most any activity outside a UHS football game. As each game passes and as each team reaches their brink of elimination, more and more parents show up to see their son participate in this activity for possibly the last time. It's also an opportunity for the student body to cheer on their friends and of course replicate the Cameron Crazies found on the campus of Duke University. By the time we get to Championship Eve, the gym is standing room only and is an absolute must attend event – it's bigger than Unionville vs. Kennett!
We invite you to share the ride along with us. Come on out and see a community basketball program filled with scholar athletes, sprinkled with a dozen or more players that could be or are varsity starters and you have yourself the makings of a fabulous family night out – and it's free!
The High School Division version of March Madness is scheduled to run every Tuesday through Thursday beginning February 21 and ending March 7. All games are played in the Patton Middle School Gym.  Granted, March Madness is starting in February, but it culminates in March, so we're safe to use the moniker!
Follow the full schedule and Championship Bracket online at www.urasports.com and be sure to come out and root on your favorite players, or just be part of the electric atmosphere we call March Madness.