Paul Cullen is presenting his Unplugged & Uncorked show tonight
By P.J. D'Annunzio, Staff Writer, UnionvilleTimes.com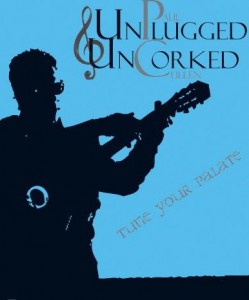 KENNETT SQUARE—He may be "bad company" 'til the day he dies, but on Friday, Paul Cullen and special guest Sweet Leda will be hosting an intimate evening of acoustic music and wine-tasting from his own label, Sonata Vino.
Cullen was drawn to music at a young age, inspired by Jazz legend Jaco Pastorius. At the age of 19, began playing bass—the axe of his beloved idol. He practiced diligently and eventually became a working musician, gigging across the country and playing every style he could learn.
In 1989, a chance meeting with AC/DC members Brian Johnson and Cliff Williams sparked a friendship—and a recommendation that Paul audition for their friends, who just happened to be Bad Company.
Cullen was hired on the spot, and throughout the early 90's toured the world with Bad Company, playing in front of millions of fans. "The instant respect and accolades I received were amazing," he said, "To get to the point where I was playing in front of 20,000 people every night…it was incredible."
When his run with Bad Company came to a close in the mid-90s, he decided to take his career into his own hands. "I began to switch my focus to playing acoustic guitar and began concentrating on singing and writing songs," remembers Cullen. "I had a vision and I knew it was highly marketable."
His vision centered on his love of wine, a love that had been nurtured during his time with Bad Company. "It was Mick Ralphs who turned me on to red wine—Châteauneuf-du-Pape from the Rhone Valley in France—and it changed my life," Cullen said. "My vision was that instead of conventional distribution of my music through record stores, I would take it to wineries, wine shops, restaurants, and wine-related events where I could both play live and sell CDs."
Thus the two loves—wine and music—coalesce together beautifully to form a flavorful vintage to the spectator, blending the warm tones of Cullen's acoustic melodies, while taking in the rich zest of a good red.
Doors open at 7 PM, the show begins at 8 PM. Tickets can be purchased through the Flash website, kennettflash.org, or at the door.