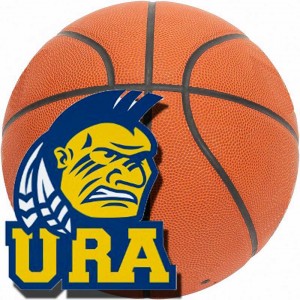 POCOPSON — There's been a lot of exciting action in the Unionville Recreation Association's Girl's Senior Division – Grades 6-9, which plays weekly at Pocopson Elementary School.
Here's a look at last Saturday's action, courtesy Dan Block:
Game 1: TERPS IN THE SOUP AFTER LOSING DOWN ON THE FARM
Texas A & M Aggies 35, Maryland Terrapins 26
Aggiemania has officially hit as Coach Gross brought a masterful game plan to the Palace today.  His Agrostars hit the cotton hard and the Terps, without their big – Jess Hussey – were hard pressed to handle the multi-pronged Texan assault squad.  Leading the charge for the Aggies was Olivia Mason, who sent the roundball to the Mason jar 7 times for her 14 points from the floor.  She was also 1 of 4 from the stripe for a total of 15 points in a break out game.
Elizabeth "E-Train" Koehler started off slow with a few misses till she found her rhythm en route to 6 points and 7 rebounds in another solid game for her.  Defensive stalwart Meghan Gross made sure to clean up the garbage with 6 points off Aggie misses.  Lauren Kentfield made her presence felt today with 4 points, a season high for her, while Elana Lindner and Meredith Welsch said "don't forget us too," lighting the scoreboard once each for 2 apiece.
For the cement shelled Terps, they will happily welcome back the Hussey tandem next week, but still managed to make it interesting with a 14 point 4th quarter surge, outscoring the Aggies in the final quarter 14-8.   Caroline "Ranger" Granger busted out for a season high 11 points while rapidly rising Sophie Schenk also tallied 11 points with a series of nifty slashes and a lightning first step.  Taryn Burke played her usual above the rim defensive game while dropping 4 points and handling the bulk of the ball handling.
Game 2: NO BARK, NO BITE AS HUSKIES CAN'T STOP THE LADY VOLS
Tennessee Lady Vols 32, U Conn Huskies 15
After jumping out to a 5-2 first quarter lead, it was all downhill from there on,with Coach K's squad outscoring the torpid Huskies 10-0 in the 2nd, 12-4 in the 3rd and 8-6 in the 4th, when U Conn finally woke up again.  There is no truth to rumors that the Huskies played in the Iditarod Winter Classic in Alaska yesterday.  Riley Schrof lead the U Conn scorers with 7 points and blocked a shot.  Molly Hutter added 6 points and Grace Schrof had a bucket for the Huskies.
For the Lady Vols, who were without center Caroline Kaiser, who had other contractual obligations today, it was another Covert Operation, with Ellie Covert leading the charge with 14 points, 10 rebounds and 7 blocked shots.  Sister Sarah added a bucket, 2 steals and a blocked shot of her own.  Natalie Hoffman added 4 points, 2 blocks and 4 steals while Virginia Bingol had a bucket as well.  But the even bigger story for the Lady Vols was Annika "The Assassin" Twombly, how hit a season and career high 10 points.  Interviewed briefly after the game, she said "I just found my spot out there."
Coach K, in his post-game press conference when asked about Twombly said, "I just had my girls feed the shooter."  For the Tennessee squad, let's hope that Annika continues her hunger for cotton.
Game 3: BEARS AVOID TARPIT WHILE MAWLING TARHEELS
**GAME OF THE WEEK**
Baylor Lady Bears 23 UNC Tarheels 20
With head coach Sienna McGinnis out due to other contractual obligations, assistant coach Dad McGinnis showed why he has been a URA institution through the years as he guided the Lady Bears to their second victory this season.  For Baylor, it meant a lot of Coast to Coast, as in Sam Pancoast, who continues to be a workhorse for Baylor.  Today she dropped 12 of their 23 points while hauling in 11 rebounds and collecting 2 steals.  She as assisted mightily by mid-season addition, Dr. Z (Olivia Zubillaga), who dumped in 8 points while blocking 2 shots and hauling down 12 rebounds.
Fearless Frannie DiPlacido added a bucket and Maddie Knightly went 1 for 2 from the foul line.  For UNC, they could not get their running game untracked and with the Bears sporting their triple tower front court of Pancoast, Zubillaga and Shafer, they were able to keep high scoring Gabby Samulewicz relatively quiet, as she had just 7 points.  Kathleen Lapszynski  had 6 points and Hannah Bass also had an uncharacteristically quiet game with just 3 points.  Natalie Duerr added a bucket as well for UNC, which now falls to 3rd place behind Tennessee (2nd place) and Notre Dame (1st).
Game 4: NO BLOW-OUT THIS TIME, BUT FIGHTING IRISH SURVIVE STORM
Notre Dame Fighting Irish 27, Miami Hurricanes 18
Coach Carlow had his first scare this season, though his proud fighters escaped with another win to remain undefeated.  With a 4th quarter storm surge that saw the 'Canes outscore Notre Dame 9-4,Miami almost pulled an upset before the Irish regained their fight to close things out in their usual style.  For Notre Dame, Kacie Breeding hit for 11 points while Frankie Manriquez provided a nice complement, banking in 4 baskets for her 8 points.  Sophie Detweiler added 4 points while Alana Greeley and Salem Carlow had 2 apiece.  For the 'Canes, it was the Jet Stream they rode in the 4th quarter during their surge, as Jet Lattari kicked in the turbos for 7 of her 12 points in the final 10 minutes.  Ashley Millhouse, Colette Savant and Ivy Yen added buckets.