Legislative leaders unsure of path forward, old districts an option for 2012 elections; candidates, parties left in limbo
By Mike McGann, Editor, UnionvilleTimes.com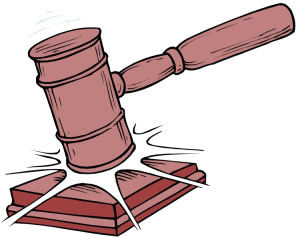 In a stunning move, just as local legislative candidates were beginning to collect signatures to get on the April primary ballot, the Pennsylvania Supreme Court threw out the new legislative districts by a split 4-3 vote Wednesday, kicking the redistricting plan back to the five-person commission. Until new districts are approved, legislative districts will revert to their 2001 borders.
The road forward may become a bit clearer Thursday when the full text of the court's ruling is released — party and legislative leaders were unclear whether the high court expected moderate revisions to the redistricting plan — or to have the plan tossed out and to start the process from scratch. While either would lead to time challenges — the petition season kicked off this week and although extended by the court to Feb. 16, still would not appear to allow time for a major reworking of the districts in time for the 2012 election season.
"This is uncharted territory, and at this point the court has not provided the information needed for the Legislative Reapportionment Commission to fully understand how to proceed," State Sen. Dominic Pileggi (R-9), the senate Majority Leader who represents much of the Unionville area said in a statement issued Wednesday night. "As a member of the Commission, I will do everything in my power to ensure that a redistricting plan for the General Assembly is enacted as promptly as possible when the court releases its opinion."
But in the meantime, various candidates and campaigns were left in limbo in Chester County. Wednesday night, the Chester County Democratic Committee met and was expected to make endorsements in various state house and state senate races — a move that had to be put on hold in light of the court rulings.
How the final process shakes out could have a major impact on the look of the fall races around the county — and even in the Unionville area.
The highest profile race, what looked to be a rugged intra-party battle between Democratic state Sen. Andy Dinniman and former State Rep. Tom Houghton for the 19th District seat now may not materialize — and Houghton, who initially planned to run against Pileggi, may find himself back in the 9th.
Pocopson, which had been moved back to the 158th State House district after a decade in the 160th, is also in limbo.
And although they are part of separate cases, speculation about the fate of the newly drawn Congressional district maps is now rampant, as many of the issues cited by the Supreme Court would appear to be even more at issue in the federal district — including the new 7th Congressional District, cited as one of the most gerrymandered districts in the United States.