Keratin treatments can add shine, cut friz

By Kelly Hockenberry, Columnist, UnionvilleTimes.com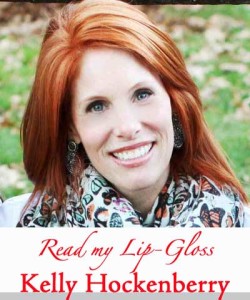 Over the years, I've had several "life changing" moments when it comes to my appearance:
Mascara, circa 1983.  Actually GAVE me visible eyeballs.
Dying my eyebrows, circa 1990.  Actually GAVE me visible eyebrows
Botox, circa 2006.  Took away my "angry Mom" scowl
KERATIN "MIRACLE PRODUCT", CIRCA 2 days ago at NICHOLAS ANTHONY SALON!
When I say that something is "life changing" about my hair, let me elaborate…
I have had a love/hate relationship with my mane (which is an accurate descriptive word) for as long as I can remember.  My hair is naturally red (ALWAYS wanted to be blonde), it is very wavy (not beautiful ringlet curls, but, frizzy and uncontrollable) and so thick that I can snap a barrette in half without trying too hard.
My daily routine is to wash my hair, blow it dry (takes about 15 or 20 minutes) and then either: struggle section by section with a flat iron OR curl it with a big-barreled iron.  Either way, it is a tedious process.  I have NEVER, I repeat, NEVER been able to "wake up and go".
And, in the summer?  FORGET ABOUT IT.  A ponytail or a bun is my only option when the mercury rises higher than 80 or the humidity is above 30%.  It sucks.  And, it is probably the reason that I have never been asked to model on a tropical island…
SO, you can imagine my INCREDIBLE EXCITEMENT when I was booked for a Keratin treatment (upon the recommendation of my VERY talented hair dresser, Tricia Vanore) at Nicholas Anthony Salon right down the street in Willowdale Town Center.
The Keratin Smoothing Treatment has exploded in popularity.  For approximately $150 and two hours of your time, you can have the silky, manageable hair you never thought was possible.
To demonstrate, here is my heinous "before" picture: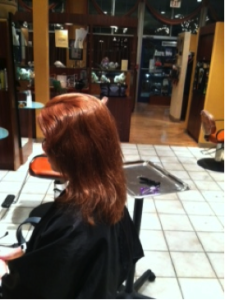 My stylist, Laura Bienkowski, started the treatment by washing and clarifying my hair.  The Keratin formula was a liquid that was sprayed on after drying.  I could not smell anything and had no type of reaction to the application.  The ceilings in the salon are very high (and beautiful), so, proper ventilation was not an issue.
Laura then sectioned off my hair and meticulously flat ironed every part, sealing in the Keratin.  Keratin is a very strong protein found in our hair, skin and nails.  By moisturizing the outer layer of Keratin, it will look healthy and prevent cracking and splitting of the hair.  Gone is any frizziness or "huge hair syndrome", as I like to call it.
The end result is a shine that you find naturally on the head of a three year old….or ME!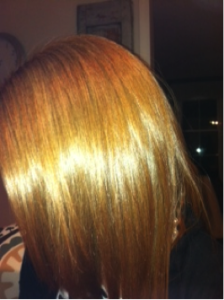 Like this:
If that doesn't make you book your appointment, I don't know what will.  I mean, seriously, people.
There is some maintenance to extend the benefits of the treatment for as long as possible (usually about 4 months).  It is HIGHLY recommended to purchase the corresponding shampoo and conditioner. These products contain Keratin and are a very gentle formulation.
Anthony DiFrancesco, owner of the salon, has graciously offered a GIFT to all of you:
BOOK AN APPOINTMENT FOR A KERATIN SMOOTHING TREATMENT AND YOU WILL GET A "BUY ONE GET ONE FREE" KERATIN PRODUCT (a $28 value)!  So, if you purchase the shampoo, you can get the conditioner or a styling aid for FREE!!!  LOVE THAT!
Nicholas Anthony is a full service family salon.  It is incredible that in our quaint, rural neck of the woods, you can book a state of the art facial or luxurious massage!  How fabulous?
The stylists are constantly re-inventing themselves and their services by participating in continuing education workshops.  In fact, Nicholas Anthony Salon will be debuting a new product line called "Shape Control" as early as next week!
If my story doesn't move you (but, I'm confident that it does), schedule your own appointment for a treatment, call 610-444-7222 and write to tell me YOUR results!
And, when you see my luxurious locks in public, please ask before you run your fingers through it.  That's just common courtesy.
Happy Snow-y Weekend!