Getting to know Class of 2012 president in our new feature  
By Dave Conard,  Sports Editor UnionvilleTimes.com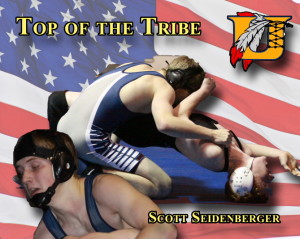 EAST MARLBOROUGH — In our new Unionville Times feature, "Top of the Tribe", we will be highlighting a worthy student for his/ her accomplishments in the classroom as well as their exploits on an athletic, academic, dramatic or musical stage.
Our new bi-weekly feature will help you get to know the person behind, the mask, music or statistics and hopefully will be something that our readers will look forward to seeing.
Please fell free to comment or let us know about a Kennett student that warrants a Top of the Tribe profile on them as we thrive on reader feedback to continue to grow and improve our coverage of the Unionville school district.
At first glance Indians senior Scott Seidenberger appears to be a typical teenager, being certain to maintain his social network status, as he is the captain of the varsity wrestling team, while fulfilling his demanding schedule as he navigates his way through the halls of Unionville High School.
Seidenberger is anything but typical, at age 18 the Kennett Square native, who has committed to Cornell and will be attending on a full ROTC scholarship from the state department, traveled to and spent an entire summer in Russia and helped lead his beloved Indians into the district playoffs on the mat last season and has high aspirations for his senior year.
"This is supposed to be the best year of high school," said Seidenberger. "I have a lot on my plate but I wouldn't have it any other way. I love my class and it is my responsibility to give 150 percent in everything I do. I am so excited about how well our young guys have stepped up this season, we all push each other which just makes every one better."
Seidenberger, who is not only the senior class president and sits on the school board as the student representative, also takes time to help in events and activities in the community as well, as he prepares for a career in labor relations.
Top of the Tribe-The five questions we had to ask of our class of 2012 commander in chief-
What goals have you set for yourself this year?
"Individually, I want to get to the top 10 in wins in school history, which will take a great year as I have about 60 wins right now. I would also love to get to regionals this season. As a team I want to make sure we qualify for districts and states."
Who has inspired you or been the biggest influence on you?
"I owe everything that I am to my mom and dad (Tom and Sue), they have supported me in everything I do and have shown me by example the kind of person I want to be."
When you're not trying to burry a Ches-Mont opponent into the mat, what hobbies do you have?
"I study Russian, living in St. Petersburg all summer was an incredible experience, it was amazing how similar the Russian people are to our culture. I also am very active with the school board."
If we tapped into your I-Pod before a match or when you are just relaxing what kind of music would we hear?
"I love techno when I am getting ready for a match. I can listen to pretty much anything on the ready other wise I have a pretty broad spectrum of musical taste."
If you could play a round of golf or just have a lunch in the city what three people would you invite and want to spend time with?
"First it would be Secretary of State Hillary Clinton, she is an amazing person, and I would have to also put Joint Chief of Staff Dempsey and Ban Ki-moon the Secretary General of the United Nations, that would be a dream day."