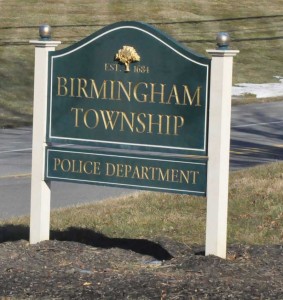 BIRMINGHAM — if 2011 in worked for you in terms of the township government, 2012 looks to be a delightful rerun.
The township's Board of Supervisors met Tuesday afternoon for their annual reorganization meeting and virtually all township government is a carryover from last year.
John Conklin was elected as board chairman, jokingly suggesting that no one else wanted the job, while William Kirkpatrick will serve as Vice Chairman. Long-time township secretary/treasurer Quina Nelling was reappointed to her position. Thomas Nelling, who holds a number of posts for the township, including police chief, was reappointed as well, as were all of the full-time and part time officers of the township police department.
Buckley, Brion was reappointed as the township's legal counsel, with Joseph Brion and Kristin Camp as primary attorneys.
The board of supervisors did make a number of appointments to various township boards and commissions. Tony Webb was reappointed to the township's Historic Architectural Review Board, while Jim Rosenthal and Anne Siemer were appointed to the townhip's Recreation, Parks and Open Space committee. Matt Bedwell was reappointed to the township Historic Commission. Lloyd Roach was reappointed as the township's Emergency Management Coordinator.
Richard March was reappointed to the township's Zoning Hearing Board, while Scott Boarse was added as an alternate.—Mike McGann