With the election close at hand, event proves more heated than May event
By Mike McGann, Editor, UnionvilleTimes.com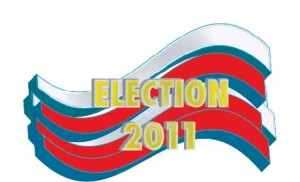 PENNSBURY — At times contentious, Wednesday night's Board of Education candidates forum was a somewhat more intense event than May's more collegial evening of discussion.
Much of the sparring at the event, sponsored by The League of Women Voters and the PTOs of the Unionville-Chadds Ford School District, was between Kathleen Meehan Do and Frank Murphy, among five competing for three board seats in Region C (Chadds Ford and Pennsbury) — and a lot of that back and forth centered on the nature of the departure of former Superintendent of Schools Sharon Parker.
Each candidate got to make a brief opening statement and then each answered questions in turn as submitted by audience members — on subjects ranging from the recent teachers' contract negotiation, pending legislation, the role of school board members and of course, taxes.
Still, despite the moments of heat, a great deal of the conversation was not contentious — and there were a number of areas of agreement, including that the district needs to take a hard look at ways to generate revenue beyond taxation.
Murphy hammered Do over her references to Parker's having "resigned" rather than "retired" — taken by some as a suggestion that the former superintendent left the district for reasons other than wanting to spend time with her children and grandchildren. Do said that the "resigned" reference — in an email from May — was inadvertent and that she regretted it.
"I take extreme exception to the idea that I questioned Sharon's veracity. She (Parker) said she was leaving to spend time with her children," Do said. "And to reduce stress in her life. I felt her life was too stressful, that the board made her life difficult."
Murphy and board president Timotha Trigg — another Region C candidate — also publicly took issue with reports in The Unionville Times that a a presentation at a March 21 board executive session may have violated the state Sunshine Act.
"The Sunshine law is not a particularly settled law," Trigg said. "My understanding is that our solicitor does not agree with the opinions (in the news story)." She noted she felt there was nothing "improper" about the executive session.
Beyond those fireworks, much of the talk revolved around lower-key discussions about non-tax methods for enhancing revenue, the role of school board members, the district's relationship with its teachers, legislation to make school board elections non-partisan.
Sharon Jones, a candidate from Region C, spoke about the limits of taxation and that other methods must be looked for to add to the district's bottom line.
"I'd like to help define other ways to generate revenue," she said. She noted that she would welcome public input on the matter.
Gregg Lindner, a former board member seeking to regain a seat from Region C, noted that had been something he was working on during his brief tenure on the board in 2009.
"We need to put together a program to get the district additional dollars," he said. "This is something that started to be looked at two years ago when I was on the board. But the board has not come up with a policy, and there's been little movement on the issue."
Rob MacPherson, a candidate from Region A (East Marlborough and West Marlborough), addressed some resistance from parents and others when it comes to commercialism in the schools, whether it be from naming rights for facilities or some sort of carefully-vetted advertising, by noting that their kids were already walking marketing messages.
"Folks, your kids are advertising billboards when they go to school," he said and then proceeded to list a number of well-known brands commonly worn by students.
Murphy suggested such methods, while worth considering, would not be a "panacea" or a solution to the general fiscal challenges the district faces.
There were some differing view about the recently concluded teacher negotiations — with some criticism of the tone of the talks and the impact on the relationship with the district's teachers. Lindner suggested that the previous talks, when he was serving, were more collegial and less contentious. Murphy, who chaired the negotiating committee, noted that those talks were for a one-year extension, not a multi-year deal.
All six were asked to answer yes or no as to whether they support a bill by state Sen. Andrew Dinniman (D-19, who represents West Marlborough and Newlin in the Unionville area) to make school board elections non-partisan as they are currently in 47 states. Lindner, MacPherson and Do said yes, while Jones and Murphy said no. Trigg said she wasn't familiar with the legislation.
Eileen Bushelow, the lone candidate from Region B (Pocopson, Birmingham and Newlin), was in attendance, but chose not to participate so as to give those candidates in contested races to have more time to speak.