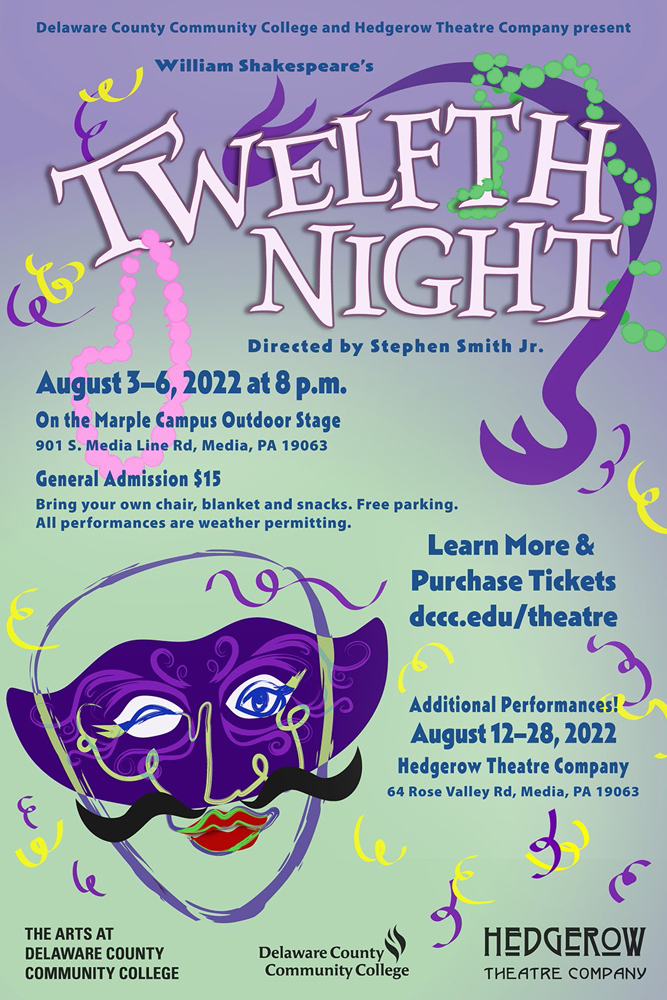 Delaware County Community College and Hedgerow Theatre Company have joined together to produce William Shakespeare's Twelfth Night, to be performed at 8 p.m., August 3–6 on the outdoor stage at the College's Marple Campus, 901 S. Media Line Road, Media, PA 19063.
General admission is $15, and tickets can be purchased online at dccc.edu/theatre and in-person the evening of the performance. Attendees are invited to bring chairs and blankets as well as refreshments to enjoy during the performance on the lawn under the stars in the courtyard.
Twelfth Night is the College's second annual summer Shakespeare production and is directed by Associate Professor of Drama Stephen Smith, with music composed and performed by retired Assistant Professor of Music Joseph Nocella. In collaboration with Hedgerow Theatre, Delaware County Community College student actors worked side-by-side with professional theatre artists for this production, which includes several graduates of the College's Theatre Program!
After the production concludes on the Marple Campus, Twelfth Night will continue its run at Hedgerow Theatre Company, August 12–28. To learn more about those performances visit hedgerowtheatre.org.
Cast: Clark Clement, Dontay Driver, Marissa Emerson, Drew Garrison, Wonder Gaye, Zach Holzberg, Sandra Lawler, Chelsea Lombard, Will Myer, Umani Padmore, Joshua Peacock, Daniel Romano, Ray Saracini, Susan Wefel and Oniha Warren. Crew: Stephen Smith, director; Marcie Bramucci, producing artistic director at Hedgerow Theatre Company; Joseph Nocella, original music; Joseph Nocella, Stephen Campitelli, pianists; Stephen Wiseley, set design; Mimi Kenney Smith, costume design; Jerry Forsyth, lighting design; Nicki Bonura, stage manager; Umani Padmore, Wonder Gaye, Kelly Montgomery, assistant stage managers; Adam Bramucci, Stephen Smith, set construction; Vanessa Saharko, poster & program design; Elizabeth Hanson, wardrobe and costume construction; Susan Wefel, props; David Hulford, topiary sculptor.