Fashion event planned for Sept. 29
By Kelly Hockenberry, Columnist, UnionvilleTimes.com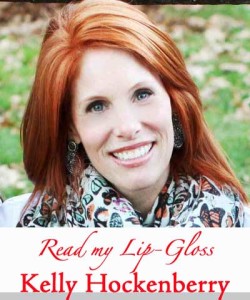 Did you know that on Thursday, September 29th downtown Kennett Square turns into a mini version of New York's famed "Fashion Night Out"?
It's true!
Ashley Austin Boutique and Chantilly Blue host their annual Fall Fashion Girl's Night party from 5 to 8 pm.  Everyone is invited….you don't have to be rich OR famous! Although, if you are, I'd like to be your friend!
This is the perfect evening to mingle with girlfriends, nibble on delicious treats and sip a cocktail (or two).
For those of you who feel that you are always unsure about what style works best, THIS is the night to get the answers.
Ashley Austin is an adorable shoe and accessories boutique with everything from Frye boots to glittery flats to designer handbags. There are scarves and belts, jewelry and perfume and SPANX (just to put the cherry on top of the sundae). Ashley and the girls are fabulous at finding the perfect shoe that feels as good as it looks.
Chantilly Blue is the number one place to buy premium denim. Lisa is the guru of zeroing in on the ultimate fit to magically camouflage any trouble spot. As I have stated in multiple articles in the past, once you find a pair of jeans that fit like a glove, you will NEVER go back to ordinary again.
In addition to denim, there are jackets and sweaters and tunics galore! From dressy to casual, you can find a little something to spruce up your closet!
Fall is the perfect season for layering. Grab a vintage t-shirt and pair it with a longer cardigan and skinny jeans. Pile on autumnal colored bracelets from Powerbeads by jen and wrap a gorgeous Yarnz cashmere scarf from Ashley's around your neck.
I had fun selecting a few example outfits to show you! (Now, I must admit that I did take a photography class in high school, but, was more interested in the boys than actually LEARNING anything….so, take it for what it's worth…OK?)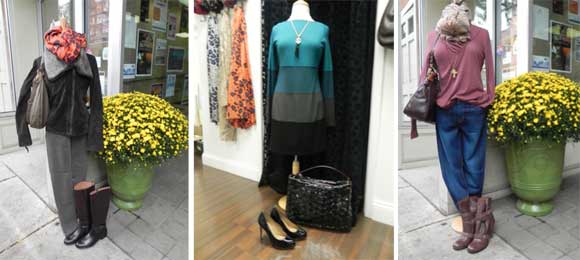 My current obsessions (because I know that you're curious about them) are: colored denim, color block dresses and the perfect chocolate leather boot.  So, my mission was to pull three looks that I think are great examples of each.
The fur collared jacket is a MUST have. Faux fur is still the hottest trend around and it instantly updates whatever you have on underneath. And, who out there has that gray colored jean in their closet?? I don't (YET). Delicious. The classic rich brown riding boot pulls the whole look together and can be worn casually or to the office. You will LIVE in a boot like that! Worth every penny, trust me.
The "easy to throw on" dress is a no brainer. This outfit, complete with the black patent pump and TO DIE FOR quilted yummy handbag, is just BA-NANAS. Right? I mean, if you walk into a work event in that you will leave as the new CEO.
The final look is what I think that every hot Momma should be wearing around town. THIS is the replacement for a sloppy sweatsuit and sneakers. A cute comfortable top, updated denim, fantastic boots and a scarf and long necklace….ummmm, yeah. You are going food shopping in this outfit and reapplying lipstick and going out to dinner later in the same get-up. What's not to love about that scenerio? EASY.
Don't miss a golden opportunity to let some VERY fashionable girls give you a head to toe style make-over THIS THURSDAY, September 29th from 5 to  8 pm! No New Jersey Transit necessary, it's all right here in our neck of the woods J
See you there!!!