To The Editor,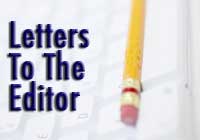 Climate change is one of the greatest threats we face.  We're already seeing the effects here in Pennsylvania, like stronger storms and more flooding.  I personally have seen severe flooding in the Upper East Branch Brandywine Creek last year, when fifty refrigerator-size Styrofoam blocks floated down the creek from a go-kart track, and again last month when the blocks had to be prevented from going downstream.
Pennsylvania is the third dirtiest state in the country in terms of carbon pollution, a major cause of climate change. Pennsylvania has the opportunity to join a bipartisan, multi-state program to reduce carbon pollution from power plants, known as the Regional Greenhouse Gas Initiative (RGGI).
The 11 states that are already part of RGGI confirm that they've been able to cut climate pollution by a third and have raised nearly $3 billion to invest in clean energy and other green projects. Experts project that Pennsylvania can cut carbon pollution by more than 180 million tons, equal to the impact of taking 4 million cars off the road, while creating 27,000 more jobs and adding nearly $2 billion to the state's economy – it's a Win-Win!
A gracious thank you to Senators Katie Muth and Carolyn Comitta who voted No on Senate Bill 119, a shortsighted bill that would prevent Pennsylvania from joining RGGI.  Unfortunately, the State House will soon be considering this bill, which will also preclude the PA DEP from regulating carbon in Pennsylvania. I urge Representative Danielle Friel Otten to vote No on SB119 and ask readers to implore their legislators to follow suit.
Amy Bruckner
Downingtown