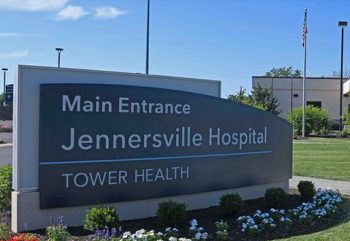 WEST GROVE – On Tuesday, March 30, at 8 a.m. Jennersville Hospital will host a COVID-19 memorial ceremony to pay tribute to Chester County residents who have died from COVID-19. The event will take place at the newly constructed Reflection Garden located outside of the Emergency Department entrance. A tree will be planted to honor the lives impacted and as a reminder of the lives lost to COVID-19.
At the event Dr. Claire Mooney, Jennersville Hospital President and CEO and Rev. Msgr. Francis Depman will make remarks and lead a moment of silence. The event will take place rain or shine.
Media and the public are invited to attend the event. Masks are required and social distancing will be observed.
"COVID-19 has, and continues to, affect so many people in our community," said Dr. Mooney. "A tree to initiate the planting of the Reflection Garden was so fitting as a physical reminder of the events of this pandemic. This tree will serve as the living cornerstone in a place designed to support healing for our staff, patients, and their families. To everyone who suffered loss due to the pandemic, Jennersville Hospital and Tower Health expresses our sincere condolences."
To support the construction of the Reflection Garden or to donate to the Jennersville Development Fund in honor of a loved one lost or one that defeated COVID-19 visit towerhealth.org/JennersvilleDonate.
The Jennersville Development Fund was established to support the growing needs of the hospital and as a commitment to improvements for staff and patients. Contributions to the fund create an immediate impact on physicians, nurses and staff by supporting initiatives that transform the lives of those we serve."