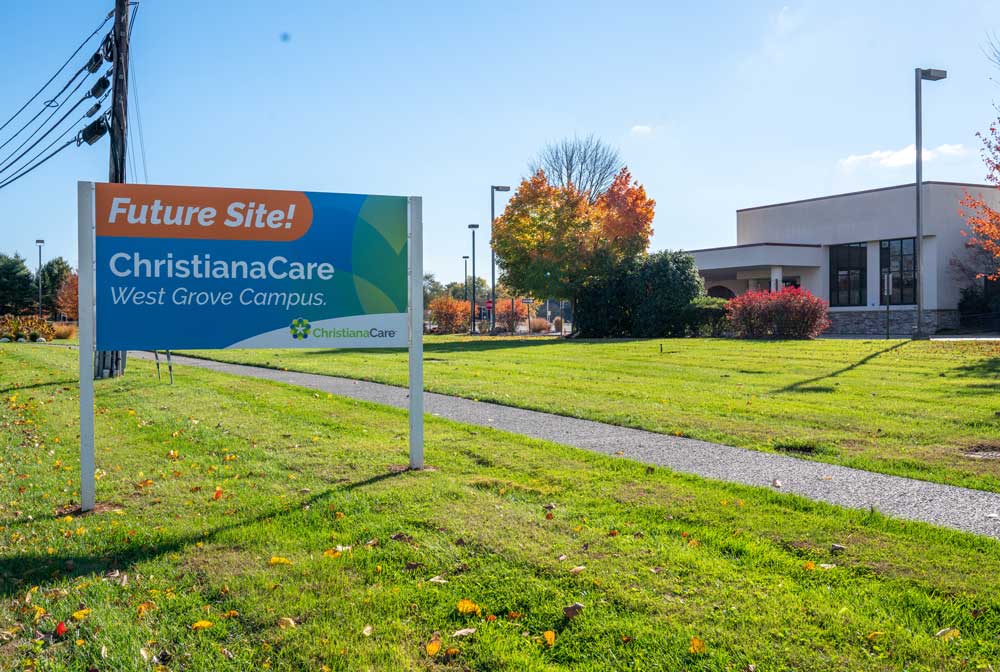 An emergency room and some limited hospital services will return to the site of the former Jennersville Hospital — which closed in 2021 — hopefully before the end of 2024, company officials said today.
ChristianaCare provided new details about its plans to restore health care services to the southern Chester County community at its West Grove Campus, formerly Jennersville Hospital.
ChristianaCare will open a neighborhood hospital that includes 10 emergency department beds and 10 inpatient beds. The neighborhood hospital will offer emergency care, behavioral health emergency care and provide diagnostic capabilities including ultrasound, computed tomography (CT), X-ray and laboratory services. The emergency department will treat common emergency care needs such as falls, injuries, heart attacks and strokes. Additionally, the hospital will benefit from access to ChristianaCare's large network of specialists and support services — such as neurology and cardiology — through virtual consults.
"We are excited to share our plans to restore important, local health care resources to the southern Chester County community," said Janice Nevin, M.D., MPH, ChristianaCare president and CEO. "We are committed to our neighbors in southern Chester County for the long-term, serving them as expert, caring partners in their health."
ChristianaCare's plans for a neighborhood hospital meet the Pennsylvania Department of Health's requirements for a micro-hospital, which must have a minimum of 10 inpatient beds and 10 emergency department treatment rooms and offer imaging services onsite.
"After listening to the needs of the community and an extensive review of historical and projected demographic data, we believe this neighborhood hospital model will provide the right mix of health care services for the West Grove Campus in a way that is sustainable and meets the community's most immediate needs today, and it also sets us up to grow in meeting more of the community's needs in the future," said Heather Farley, M.D., chief wellness officer for ChristianaCare and the clinical leader for the West Grove planning.
ChristianaCare anticipates an opening date in late 2024, although the date is subject to change due to the significant work that will be required to renovate the facility to bring it up to current standards, including the build-out of an entirely new information technology infrastructure.
Last year, ChristianaCare received funding from Chester County and the Commonwealth of Pennsylvaniatotaling $5 million to assist in facility upgrades.
ChristianaCare already serves residents of southern Chester County. Since 2020, ChristianaCare has provided primary care in three practices that are located in Jennersville, West Grove and Kennett Square. The West Grove practice has recently brought on additional providers and will soon begin offering virtual visits with ChristianaCare specialists. Combined, these three practices are now the "medical home" for 22,000 residents in these communities.
ChristianaCare finalized the purchase of its West Grove campus from Tower Health in June 2022. The hospital has been closed since Dec. 31, 2021.