By Mike McGann, Editor, The Times @mikemcgannpa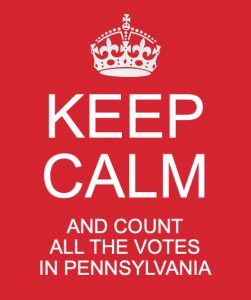 Despite false claims of voter fraud by President Donald Trump, ballot counting will continue in Pennsylvania and Chester County — and may not be fully complete statewide until Friday.
Although Trump falsely declared victory late Tuesday, it appears that Joe Biden is increasingly likely to win a fairly close but definitive victory for the White House, as much of the uncounted votes in states such as Pennsylvania are mail-in ballots, which lean heavily in favor of Democrats. At this writing, Biden appears poised to win Michigan, Wisconsin, Nevada and Pennsylvania, with both Georgia and North Carolina hanging in the balance and waiting on counts of mail-in ballots.
Results for the statewide Row Offices races, as well as local legislative races are unclear right now pending final vote counts.
Pennsylvania's delay in vote counting was provoked by Republicans in the state legislature who refused to allow pre-canvassing of the vote — opening the envelopes, confirming the signature and readying the ballots for counting on election day. Most counties began their mail-in count Tuesday, with a handful of counties waiting until Wednesday.
Gov. Tom Wolf suggested in a video last night that the state's residents should take a deep breath — all of the votes will be counted and a winner will emerge.
"Across the state, dedicated county workers are ready to tirelessly make sure everyone's vote counts," Wolf said. "But counting that tremendous number of ballots will take more time than we are used to. We may not know the results today, but I encourage all of us to take a deep breath and be patient. What is most important is that we have accurate results, even if that takes a little longer."
But Republicans increasingly are arguing that the legally-cast mail-in votes should not be counted — ballots that tend to favor Democrats, who chose to vote early. Two GOP state Senate Leaders, Senate Majority Leader Jake Corman and Senate President Pro Tempore demanded that Secretary of State Kathy Boockvar resign because she had given conflicting advice to county election officials.
Wolf was having none of it, though.
"This is a partisan attack on Pennsylvania's elections and our votes," Wolf said Tuesday night. "Our election officials are working diligently to make sure every vote is counted and everyone's voice is heard. Attacks like this are an attempt to undermine confidence in the results of the election, and we should all denounce them for the undemocratic actions they are. I support our Secretary of State and all of our state and local election officials who are working hard to deliver timely, accurate results and ensure that everyone's vote is counted and protected."
Tuesday night, local officials gathered at the Government Services Building in Westtown to defend the voting process. State Rep. Carolyn Comitta (D-156) — also a candidate for the 9th state Senatorial District  — State Rep. Dan Williams (D-74), West Chester Mayor Dianne Herrin (a candidate for the State House in the 156th District), West Chester NAACP President Reverend Kyle Boyer and Conservation Voters of PA member Edna Patterson all expressed support for getting every voted counted, no matter the delay.
"We've not been through a year like this or an Election like this," Comitta said. "It's different than what we're used to, but it's still Democracy in action. The people of Pennsylvania are still deciding. And our elections are still safe, secure, and reliable. Our democracy is stronger when every citizen votes and every vote is counted."