By Mike McGann, Editor, The Times @mikemcgannpa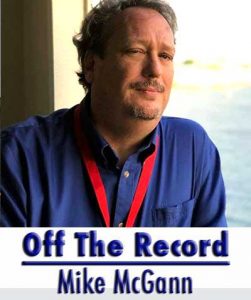 On Tuesday, many of us will vote.
Of course, here in Chester County, more than 100,000 people have returned their mail-in ballots (that number is probably low — I assume many more ballots will have shown up, maybe 40,000 more, by the time you read this — if you have a ballot, please take it to a drop off box right away).
Still, it is safe to assume that about 150,000 people will be heading to the polls on Tuesday. Turnout was 276,877 in 2016. I expect it to be higher than 300,000 this year.
Although there are reasons to be concerned, it should be safe for you to go the polls. Wear a mask, bring hand sanitizer and observe spacing when possible.
Secretary of State Kathy Boockvar said Friday serious precautions will be taken at polling places on Nov. 3 to keep voters, poll workers and election officials safe.
"We want voters to feel safe going to the polls on election day to exercise their constitutional right to vote," Boockvar said in a statement last week. "In addition to all the precautions that counties are taking, voters should follow common-sense measures, such as wearing a mask and maintaining social distancing at the polls."
While no voter will be denied their right to vote for not wearing a mask — c'mon people, be better than this — Boockvar urged all voters to wear a mask for their own safety and to protect other voters and the poll workers who will be spending all day at the polls so their neighbors can cast their ballots. The Department of State, in partnership with the Pennsylvania Emergency Management Agency (PEMA), is providing counties with masks, hand sanitizer, sneeze guards, marking tape for social distancing and other supplies for polling places.
If you are high-risk, consider voting at an off hour — 10 am is a lower volume time, as is 2pm. Avoid the early morning rush, where there will likely be lines at some polling places during the day. Additionally, don't wait until the end of the day, either.
Because of the volume of mail-in votes, it's likely that there won't be a definitive result on Tuesday night in Pennsylvania. This is a situation forced by the Republicans in the state legislature, who refused to allow a pre-canvass — opening the envelopes and getting the ballots ready for insertion into the scanners on Election Day. It appears Gov. Tom Wolf offered significant compromises, but the GOP refused — as President Donald Trump is insisting on results Election Night, and Republicans want to provoke a crisis.
Some counties — not Chester County, which will begin counting first thing on Election Day and hopes to have all ballots counted that day — plan to drag their feet and not count mail-in ballots, more on that below.
I'll note Wolf said on MSNBC last Tuesday night, he said it would all but impossible for Republicans to attempt to steal the election. I'd think the consequences would be dire for such a move. Expect final results by Friday, Nov. 6. Ignore any candidate who declares victory before the Associated Press calls the race — they are gold standard, impartial and careful and it might be Wednesday or Thursday before they make a projection for Pennsylvania.
So fraudulent intent aside, how do I see the election going? I expect Joe Biden to win Pennsylvania by 6 points — running up big numbers in Philadelphia and Allegheny County, but also improving over Hillary Clinton's numbers in the Collar counties, Erie and the Northeast.
As Pennsylvania is the lynchpin — the Keystone, as it were — in the election, a Biden win here will mean he wins the presidency. I think we'll see a few shockers: with Texas going blue as he biggest one — even as Florida stays red, narrowly. In the end, I think Biden wins about 350 electoral votes. Additionally, Democrats will expand their control of the U.S. House of Representatives and win control of the U.S. Senate.
Locally, I think Democrats get a narrow win for control of the state house, with two of the nine seats needed for control being picked up here – the 160th being vacated by Stephen Barrar, with Democrat Anton Andrew winning over Craig Williams. I think Democrat Paul Friel will knock off long-time incumbent Tim Hennessey. I expect Democrat Dianne Herrin to hold off Len Iacono in the other open seat in the county, the 156th. I don't see any other incumbents losing.
I think Democrats fall short on getting control of the state Senate — although it looks like Democrat John Kane will flip one seat, knocking off Republican Tom Killion in the 9th Senatorial district. State Rep. Carolyn Comitta (D-156) will move up and win Andy Dinniman's old state Senate seat, defeating Republican Kevin Runey.
We will have results. But we must be patient, but insistent that every vote is counted.
***
It is disappointing that Cumberland, Beaver, Monroe, Franklin, Mercer, Greene and Montour counties, among others, have opted not to start counting mail-in ballots until next Wednesday. While it is possible that lack of staffing may be to blame — I'll note there was a lot of state money available to help with adding staff to count out of the CARES funds — one has to wonder whether these GOP dominated counties are motivated by the ongoing attempts to prevent Pennsylvania's mail-in ballots from being counted at all.
Reminder: a failure to count legally cast ballots (certainly all those received by county Voter Services offices by 8 pm on Election Night) is a likely violation of the 14th Amendment of the U.S. Constitution, not to mention various state and federal voting laws. So, those votes will have to be counted, period. Ballots coming in after 8pm on Election Day are more of grey area, and the courts seem to be split on what is permissible.
But Trump is arguing that legally cast ballots — some cast weeks ago — should not be counted after midnight, Tuesday, in hopes of fraudulently winning an election.
One hopes the courts will recognize this lawless behavior for what it is.
From wrecking the United State Postal Service — Pennsylvania is one of the hardest hit states in terms of first class mail delays — to threatening to not count legally cast votes, to calling for "security teams" at polls, the Republican Party has made an overwhelming effort to suppress the vote and steal the election.
Fortunately, it is failing — Americans are rejecting the this act of tyranny and are voting in historic numbers, especially young people. But this behavior is so reprehensible that the time has come to ask whether the Republican Party should have a future place in American politics. It may be time for a new center right party to emerge to replace the corruption and immorality of the GOP.
***
New from a Stanford University study:
Trump's campaign rallies may be responsible for some 30,000 cases of COVID and some 700 deaths. Although Trump did not come to Chester County — thankfully — he did visit neighboring counties and the study suggests that the virus spread from rally attendees to others, so it is likely that some cases were sparked in Chester County.
The study only covered events through September, so it is likely that the case and death tolls are actually higher and will be in the coming weeks.
At too many of these events, people were packed closely together and did not wear masks.
***
Regardless of the results of Tuesday's election, we are in for some rough days. COVID-19 is once again racing through Pennsylvania. Last week, the commonwealth started having some of the highest case numbers ever, which continued as the week wore on. Thankfully, Chester County has managed to keep its numbers on the low side so far — doing much better than many of its neighbors. I attribute it better observance of mask wearing, keeping distance and hand washing than other parts of the state.
As I noted a few weeks back, things will get better in the spring. But we're in for a rough time in the period between. Family gatherings at Thanksgiving and Christmas/Hanukkah are likely going to speed the spread of the virus.
You will be told not to have these family gatherings — and the science is strong in terms of making that recommendation. But the reality is that most families — kept apart so much this year — will still gather. Humans are social creatures and it is hard to force isolation during the holidays.
So, a couple of thoughts: keep the gatherings small. If you are at-risk, tough as it is, you may want to skip it. It sounds crazy, but if you can, wear a mask when possible. Keep the visit brief as possible. Avoid hugs — tough one – and try to keep your distance.
If you're hosting, try to improve the ventilation in the rooms where you are hosting. The more often fresh air is circulated, the safer the room will be. Also, if you can (and if your furnace supports it) get filters that are HEPA-13 compliant. Consider using portable filter units — some even have UVC — in the rooms where people will be gathering. Every measure you take will reduce risk, even if nothing is 100% safe under these circumstances.
Again, the best option is to skip gatherings entirely. The next best is to keep them small and well-ventilated. Be smart, be careful and consider the impact of your decisions.