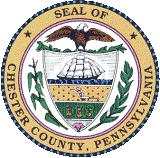 WEST CHESTER — Chester County has received a perfect score of 100 on the 2011 Federal Technical Assistance Review (TAR).  The TAR is an annual assessment by the Centers for Disease Control supported by the PA Department of Health of the overall county Strategic National Stockpile (SNS) program, including the comprehensive exercises conducted during the month of June and other planning, training, and exercises conducted from July 2010 to June 2011.
"Protecting Chester County residents during emergencies is essential," said Commissioners Chair Terence Farrell. "This review indicates the county is doing all that is possible to prepare."
From June 27 until June 29, 2011, the county SNS team partnered with many public and private stakeholders to execute a series of training and exercise events.  The exercise enabled key leaders, staff, and volunteers to practice the communication and public information elements, as well as the county-wide distribution and dispensing of medication in response to a medical emergency impacting the whole county.  More than 200 staff and volunteers and more than 30 facilities supported these exercises.
"Many county professionals worked hard to prepare the plan and make sure it would work," said Commissioner Kathi Cozzone. "They should be commended for the success of their planning and efforts."
The county's SNS program is led by the directors of the Chester County Health Department and Chester County Department of Emergency Services. The team includes relevant county personnel, county school district representatives, hospital officials and representatives of care homes, private businesses and large corporations.
"The 100 percent rating is impressive," said Commissioner Ryan Costello. "In addition to county professionals, recognition goes to personnel from all stakeholders who are supporting Chester County's SNS plan."
The recent exercises were part of the overall annual SNS Training, Exercise, and Evaluation Program.  The exercises were also executed in compliance with the Homeland Security Exercise and Evaluation Program which requires strict planning, evaluation and documentation.
The SNS program is a federally-managed system that, in the event of a major public health emergency, provides medication, medical equipment, and medical supplies to local areas to support the local response to the emergency.  The medical emergency could be natural or human-caused.  Typical planning scenarios include terrorist attack, pandemic influenza and mass Anthrax exposure.  In the event of such an emergency, citizens would be given specific instructions, and in most cases, would be directed to go to various Points of Dispensing to receive medication.