Evidence of some thawing as parents push for both sides to compromise and get a deal done to end 15-month dispute
By Mike McGann, Editor, UnionvilleTimes.com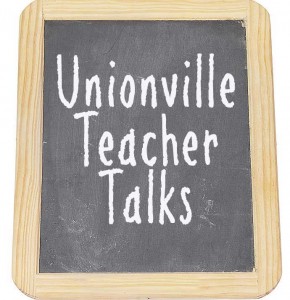 PENNSBURY — The often contentious talks between the Unionville-Chadds Ford School district and its teachers union seem to be again picking up some momentum — although it remains unclear as to whether there's any resolution in sight.
During Monday night's Board of Education meeting, board member Frank Murphy — the board's point person in the talks — summed up the negotiations to date, noting that the two parties had met for 5 ½ hours on Aug. 11, and if not finding common ground, at least appeared to have a meaningful dialog.
"Ideas were exchanged, cordially and affably," he said. "But a wide gap still remains."
Murphy told the audience, which included roughly 200 of the district's teachers, that he felt that both sides ultimately had the same three goals — and cited the interview process of Dr. John Sanville, the district's newly hired superintendent. Murphy said the new schools chief surprised board members by asking them a question — to identify the  top three goals of the contract negotiation.
Murphy said board members were fairly uniform, all expressing variations on the same themes: 1. negotiating a fiscally workable contract; 2. having work rules that were logical and didn't get in the way of student learning; 3. having happy, satisfied employees.
"I think those are the same goals that the teachers have," he said. "But the devil is in the details."
Murphy noted that the board stands ready to continue talks as soon as possible.
One board source, on condition of anonymity since the source is not empowered to speak on the board's behalf on the talks, though, did express optimism that real progress was being made, finally — and that the meeting of Aug. 11 established an improved dialogue between the two sides, who have been working without a contract since June 30, 2010.
It's possible that after weeks of acrimonious exchanges between the two sides, a thaw of sorts may in the process, if Monday night public comments by officials of the two sides are an indication.
Pat Clark, the president of the Unionville-Chadds Ford Education Association — the teachers' union — told the board that the mass gathering of teachers in their navy blue union polo shirts should not be misinterpreted as a hostile act.
"We're not here as a show of force," Clark said. "But out of sense of unity, the unity to serve our community again this fall."
Parents called on both sides to work together to close the gap and finally put the contract talks behind them. One noted that she had learned how much extra work the district's teachers perform unpaid, since they began to "to work to the contract" in the fall of 2010, or just performing those duties as specified in the contract and how much extra effort parents have had to put it to fill the gap.
"I have taken all of you teachers for granted," said Jennifer Wardius of Newlin. "I think you finally made all of us realize all that you do. But I don't think that the board recognizes it."