Board of education considering moving some restored state funds into making fleet younger
By Mike McGann, Editor, UnionvilleTimes.com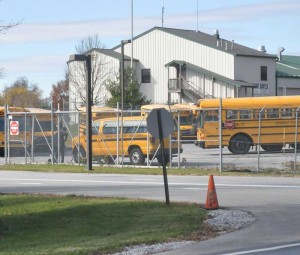 EAST MARLBOROUGH — The Unionville-Chadds Ford School District is expected to authorize seeking bids tonight for new school buses, and thanks to restoration of some state funds, the district should make some strides toward making the fleet a bit less geriatric.
Already armed with some $160,000 from savings in bus operations founds last spring, after looking at privatizing the bus operation, board members appear prepared to take some of the $828,000 in funding and spend it on new buses.
The question, though remains how much and whether to buy new or used buses — or even consider leasing buses to update the district's aged fleet.
Superintendent of Schools Sharon Parker offered her recommendations for the funds during last Monday night's board work session, including an additional $160,000 for new buses. Parker suggested that more than half — $450,000 — be placed in various reserve funds.
The district's Supervisor of Transportation, Gail Wolfel, outlined some of the options and benefits and disadvantages of some of the options.
Leasing vehicles would allow the district to add as many as 13 new vehicles this school year and would save the district money, at least initially, through lower repair costs and better fuel milage. But, those advantages disappear after about five years, Wolfel said, and ultimately the leased vehicles become more expensive.
"Our fleet is quite old," Wolfel said. "(by leasing) What we'd be able to over a five-year period replace our entire fleet."
Leasing didn't seem to have a lot of support, though.
"A leasing company is going to make money off us," board president Timotha Trigg said. "So, I'm kind of leaning against that."
"You're not saving anything in the long term," Finance Committee chair Keith Knauss said. "After five years, you start to see the effect."
Wolfel did make some arguments for adding to the number of new buses in the fleet: increased state subsidies and depreciation — plus, she said, there are currently five buses in the fleet that would not pass inspection. With major work — and expense — buses could be restored to roadworthy, but they would still be old buses, likely to incur more expense down the road.
Board member Jeff Hellrung asked about whether route consolidation and more efficient scheduling would be reducing the number of buses needed for the coming school year. Wolfel said that the new scheduling software is still not in use and probably wouldn't be ready for the 2011-12 school year, but did allow there will be three less routes this year, which will cut some of the need for buses, but the fleet remains old — and a number of reserve vehicles are needed (to fill in for broken route vehicles as well as for use in transporting sports teams).
There seemed to be some support to dip into the funds earmarked for reserve to buy additional buses.
"It might make sense to invest to bring down the average age of the fleet down," Knauss said.
Wolfel said one option to consider might be buying slightly used — 2009/2010 model year — buses. In addition to be less expensive, another advantage, Wolfel said, was that the buses would be immediately available for use, whereas new buses often need to ordered and built. The downside, she said, would be losing one to two years of operational life.
The board is expected to approve bid requests Monday night.