By Mike McGann, Editor, The Times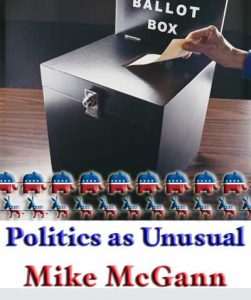 So, what to take away from Tuesday's election results?
While the county's Congressional races and even State Representative races weren't a surprise (regular readers will note I felt pretty strongly that Democrats could win all but three state house districts unless the national wave was immense, which it was not, and they did), you have to think that the state Senate race wins were a little surprising.
Democrats in Chester County outperformed the national party, which would seem to say that the county has moved firmly blue, despite having less registered Democrats than Republicans in the county. This is a process that has been slowly moving in this direction for more than a decade, but it appears that Donald Trump turned a slow erosion into a landslide.
I would like to note that beyond the atmospherics, which include the pipeline issue which really hurt Republicans, the Democrats did a better job in recruiting volunteers, raising money and managing their Get Out The Vote operations. For decades, the county GOP had a well-oiled machine, but in recent years it has sputtered, while local Democrats really got their act together.
There seems to be a lot of finger pointing at Trump among the GOP — and to be sure, the President helped fire up Democratic turnout — but there are deeper, long-term problems the county Republicans face (as I've noted in the past) that go back to at least 2010, as Tea Party Republicans began casting out old-school moderate GOP Committee members (calling them RINOs). The problem was that many of those old-school moderates were the backbone of the party, the ones that actually got the work done. The newbies, full of fire and fury, frankly are less skilled at the nuts and bolts of politics and less reliable.
While I expect a robust — maybe even furious — race by Republicans in the 2019 Commissioners/Judicial/Row Office races, they are going to have solve structural and leadership problems going forward if they expect to remain competitive in the future.
Beyond the big picture, I was surprised by a couple of individual races.
While Delaware County remains a bit, shall we say, capricious in its voting patterns as it moves from Republican bastion to Democratic stronghold, I was still a little surprised that Tim Kearney was able to pick off Tom McGarrigle in the 26th District.
But, the bigger surprise — and you have to credit a really well run campaign — was Katie Muth taking out long time state Sen. John Rafferty in the 44th District. Rafferty is fairly well-liked, had strong name ID after running for Attorney General, and had built at least some reputation for working across the aisle. But Muth was steady, persistent and smart — not to mention working exceptionally hard — and with the current environment, it was more than enough to get her over the finish line.
The toughest race of the night: the 160th. Anton Andrew ran a nearly flawless race against 11-term incumbent Steve Barrar, losing narrowly by less than 800 votes, because Barrar ran up big numbers in Delaware County. Something to consider, especially if Andrew decides to take another shot in 2020: the narrow band of towns Barrar won in are slowly being crowded out from the east and the west by growing Democratic performance. Andrew lost narrowly in formerly deep red Chadds Ford (which also went for Hillary Clinton in 2016).
But demography is not on Barrar's side in the future. He will continue to see erosion of die-hard Republican voters in that part of the district, while the Chester County portion of the district gets even more blue in the next couple of years. Not that it is for me to say (but, of course, you know me, I'm going to say it anyway), but Barrar should think long and hard about retiring to his sailboat after this next term, which will be his 12th, before he doesn't get a choice in the matter.
In general, the long-term for Democrats in the legislature is good — assuming they change leadership, much of which should be based in the southeast, not metro Pittsburgh going forward — as it is likely Democratic turnout will be even better in 2020 when Trump will likely be on the ballot for President.
Locally, that means (as noted above) the 160th State House seat and the 9th state Senate seat currently held by Tom Killion will be fully in play. The 26th State House seat, which Tim Hennessey held onto this cycle, could be in play if the long-time legislator retires. I'm less optimistic about the 13th State House district — Sue Walker ran a great race against incumbent John Lawrence, but the demographics of the district were too much to overcome and may still be in 2020.
***
And so — after countless numbers of these columns where I hoped a bit to draw back the curtain for average folks about how politics works from the inside out — this is the final edition of Politics as Unusual. The Times — because of the current media economic situation — is changing formats to an all-community submission content model, leaving no room for content such as this.
I hope I've offered some insight — and maybe a bit of entertainment — over the years.
But it is time to move to other pursuits, a novel, my real estate holdings and — yes — a likely return to some role in politics, as I find it increasingly hard to sit on the sidelines when every voice is needed.
Thank for your patience when I pushed boundaries, your questions and comments (even — maybe even especially — the negative ones). It's been fun and rewarding. See you at the ballot box.