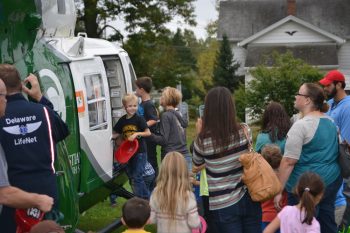 Longwood Fire Company will hold its 16th annual Open House on Sunday, October 21 from 11:00 a.m. until 2:00 p.m.
"We offer a special invitation to members of our community every year so they have an opportunity to become familiar with our firefighters and our wonderful organization. We have been serving our neighbors for almost 100 years," said Longwood Fire Chief A. J. McCarthy. "The open house has a direct link to this year's Fire Prevention Week's theme, Look. Listen. Learn. Be aware – fire can happen anywhere."
Residents will be able to tour the firehouse, talk with the fire and EMS members of Longwood and get an up-close look at the company's firefighting and other life-saving equipment. The family-friendly event is free. Food and beverages will be served at the firehouse, 1001 East Baltimore Pike, and an auction will take place. A new addition to this year's event will be Hood's BBQ Food Truck.
Christiana Cares – Lifenet Helicopter is scheduled to make a landing, weather permitting. Also, information will be distributed by members of the Kennett Township Police Department and other community organizations.
A kids' corner with a number of activities, including face painting, will be available. Also Longwood is handing out complimentary fire hats and badge stickers to the youngsters.
A number of community businesses and organizations took part or contributed a donation toward last year's open house and they are expected to participate this year, including Kennett Township Police Department, Penn Medicine Chester County Hospital, Crozer-Chester Medical Center, Chester County Dept. of Emergency Services, Christiana Cares Health System – Lifenet Helicopter, Wawa, Herr's, Floga Bistro, La Mia Pizzeria, Starbucks, Giordano's, Tidewater Grille, Longwood Gardens, Hand and Stone, Chadd's Ford Winery, Palm-A-Bagel and TJ Maxx.
"The open house is a success each year because of the support of our members and the local businesses," said McCarthy. "For example, Walgreens gives dozens of free flu shots at no charge."
Longwood Fire Company has served the communities of Kennett, East Marlborough, Pennsbury and Pocopson townships since 1921. Longwood Fire Company provides fire and rescue and emergency medical services 24 hours a day, 365 days a year. For more information see www.longwoodfireco.com.