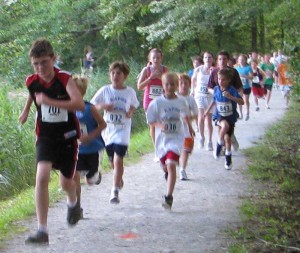 KENNETT SQUARE — The Kennett Area Park and Recreation Kids Cross Country Race is scheduled for Thursday,  Aug. 4.  Free training will also be provided at Anson B. Nixon park from 8 a.m.-9 a.m. on Tuesdays and Thursdays leading up to race day.
This fun event is scheduled at 7 pm, with registration opening at 6pm. Children will run a 1.5 mile race course.  The event is free to any child ages 14 and under who would like to run.
Prizes, drinks, Brusters Water Ice and trophies will be distributed to winners!  Free cross country training is provided at Anson B. Nixon Park on Tuesdays and Thursdays for one hour at pavilion.  For more information on the KAPRB Kids Cross Country Race  or training please contact 610-444-6314 or kaprb@verizon.net.
The Mushroom Festival 5K Race is scheduled for Sunday, Sept. 11.  The race will begin at  8:30am at the intersection of South and Broad Streets in Kennett Square.
Registration forms are now available by emailing kaprb@verizon.net.