To The Editor,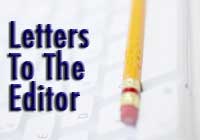 I would like to thank the Pennsylvania House of Representative's Judiciary Committee for its recent six days of hearings on gun laws and gun violence prevention. I had the opportunity to attend three of these hearings, and I learned a lot.
I would also like to thank the Pennsylvania Senate for unanimously passing Senator Killion's bill, SB501. This bill closes loopholes within our domestic violence laws, allowing for the quick and effective disarming of convicted domestic abusers and the safe securing of their firearms.
SB501 requires that abusers must turn in their firearms within 48 hours of a misdemeanor domestic violence conviction or within 24 hours of a Final Protection from Abuse order. SB501 further requires that weapons be turned in to law enforcement, licensed gun dealers or, in the case of final PFAs, to designated attorneys.
SB501 protects victims of abuse and the law enforcement officers who safeguard them. In 2016, 57 of our neighbors in Pennsylvania lost their lives at the end of an abuser's gun. One of the greatest risks facing law enforcement officers is responding to calls of domestic violence. In the same year, two law enforcement officers were killed in the line of duty in Pennsylvania while responding to domestic violence calls.
SB501 was introduced by the GOP, has bipartisan support, and is endorsed by the PA District Attorneys and Police Chiefs Associations and the Pennsylvania Coalition Against Domestic Violence. This bill will finally bring Pennsylvania state law in line with longstanding federal law. It's my hope that members of the House will choose to follow the unanimous vote of the Senate and quickly pass this bipartisan domestic violence protection bill.
Erin Buchner
Chester County Local Lead, Moms Demand Action-PA