By Mike McGann, Editor, The Times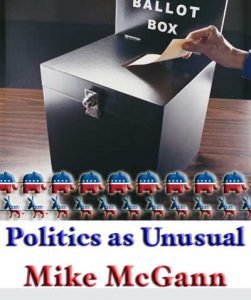 Gosh, another boring two weeks where nothing happened in politics.
Well, except for former FBI Director James Comey apparently referring to President Donald Trump as a "Mob Boss," Speaker of the U.S. House Paul Ryan announcing that he won't be running for reelection to the House, the head of the Republican Congressional Campaign ripping into a local Republican Congressman, state House Republicans — including one local State Rep. — gutting redistricting reform and one of the nastiest primary commercials in recent memory pushed boundaries in the state gubernatorial GOP primary.
Whew. There's more, but you get the idea.
But, let's start at the top: Comey compared Trump to a mob boss in an interview with ABC that will air Sunday night.
Honestly, for those of us who covered the Metro New York area in the 1980s and 90s, this isn't a shock. There were whispers then that Trump had ties to the Gambino, Colombo and Genovese Crime Families — frankly anyone in the building trades or real estate had to at minimum, accommodate, if not fully work with organized crime. At the time, Trump seemed to be fascinated by the Mob bosses — and shared an attorney, Roy Cohn, with Paul "Big Paul" Castellano, who was head of the Gambino Crime Family until John Gotti allegedly had him killed at Sparks Steak House in New York.
Interestingly, the Trump Organization appears from the outside to work much like the Gambino family, with similar organization and ranks: Consigliere, Capo, Solider and Associate. Also, family members tend to hold special rank and prominence. It is also alleged that Trump and his presidential campaign had ties to Russian crime families – all of whom are tightly tied to Russian President Vladimir Putin.
And like the last powerful Gambino leader, Gotti, Trump doesn't seem to know when to keep quiet — hence his Twitter feed's constant outbursts, which reached a fever peak when his personal attorney, Michael Cohen, had his office and home raided by the FBI this week.
You have to wonder when media outlets, including this one, will start using the old organized crime labels when referring to Trump associates and allies. Also, it also seems likely that Special Counsel Robert Mueller may well be using RICO — the Racketeer Influenced and Corrupt Organizations Act, which crippled organized crime in the 1990s — to take down the Trump Organization.
Should Trump attempt to fire Mueller, or Deputy Attorney General Rod Rosenstein, who authorized the raids, it will likely touch off a Constitutional Crisis — but not end the investigation, which will continue locally in New York State, New York City, Northern Virginia and Washington, D.C.
***
Just when you thought it was safe to hope for redistricting reform in Pennsylvania, the State House found a great way to kill it – but gutting a bill put forward by a local State Representative.
Eric Roe's (R-158) HB 722 bill to put redistricting in the hands of an independent commission — which had been buried in committee for 11 months — suddenly emerged this week, stripped of all mention of any independent commission and again, putting Gerrymandering power in the hands of the majority party.
In a party-line vote, the State Government Committee, chaired by State Rep. Darryl Metcalfe, moved the bill to the full house. Interestingly, Brutus-like, one of Roe's neighboring State Reps, Steve Barrar (R-160) was one of the GOP votes to gut the proposal.
While it's not hard to argue why the policy is bad — voters should pick their politicians, not the other way around — the politics of Barrar's decision are baffling.
For the first time since 1996, Barrar is fighting for his political life, with not one but two serious Democratic challengers: Andrew Anton and Cathy Spahr. The 160th has gone from impossible in its old guise to suddenly winnable for Democrats in a wave election (the Chester County portion of district has gotten bluer with each election since 2012 — and the old Delco GOP machine is in tatters).
So, why would Barrar hand his opponents a campaign cudgel — the mailers practically write themselves claiming that once again Barrar chose to put himself over the needs of the voters (which opens the door to call out other Barrar votes, such as the midnight pay hike vote in 2005)?
Additionally, it hurts Roe — a freshman facing what looks to be a rugged reelection against Democrat Christina Sappey — who had hoped to claim his independence and bipartisanship by bravely fighting for independent redistricting, but saw that blow up in the committee vote.
With one ill-considered vote, Barrar may well have put two more Chester County State House seats at risk. Already the 74th — with Harry Lewis Jr. retiring — is a long shot for Republicans, and both the 157th and 167th look iffy for Republicans. If we are seeing a wave, it seemed like the 13th and 160th were the only truly safe seats in the county for Republicans. Now, you may have to reduce that number by one.
***
Speaking of Republicans killing their own, the over the air warfare between Paul Mango and Scott Wagner is not going to end well. Mango's ads have defined Wagner as everything from slumlord to a toxic polluter.
Key word: defined.
While Gov. Tom Wolf quietly raises a bazillion dollars and stays above the fray, being, well Governor-like, Mango and Wagner have been slinging mud and accusations, driving up each others' negative ratings with voters. While the more conventional Laura Ellsworth has tried to act like a dignified candidate — and yet seems buried in the polls — these two have engaged in a food-fight that can only hurt the Republican Party in November.
In truth, the GOP's best hope for success this fall is if somehow Ellsworth carries the Philly suburbs (in truth, she seems to fit the Chester County mold for candidates). At this point, that seems unlikely: state Republicans — which have endorsed Wagner — claim he holds a 26-point lead over Mango in the polls, with Ellsworth trailing well behind in the single digits.
There is a good chance that Mango's ad blitz — and let's be honest, one cannot unsee those ads — will reenforce Wagner's already tarnished image and hurt GOP turnout, particularly in the southeast.
***
But wait, there's more GOP-on-GOP violence to consider:
National Republican Congressional Committee chair Steve Stivers shredded retiring U.S. Rep. Ryan Costello (R-6) — who has been on his "it's all Trump's fault" tour of national and local media outlets — in an interview with CNN this past week.
In short, Stivers (R-Ohio) was having none of the Trump-blaming argument — telling CNN Costello lacked the "intestinal fortitude" to run in the new Congressional districts established by the state Supreme Court.
"He didn't cite the political landscape when he had the old map that was R+2," Stivers told CNN. "I think it was a lack of intestinal fortitude on his part, and that's unfortunate. He should have stuck in there and fought, I think he would have won that district."
Meanwhile, Republican candidate Greg McCauley — who has only been running since February — finds himself in a big cash hole to Democrat Chrissy Houlahan. Houlahan announced this week that she $740,00 in the last quarter and now has $1.5 million cash on hand.
That early cash is crucial. Houlahan will be able to buy up air time on Philly TV outlets early — and be able to dominate the media buys. Even with help from PACs and outside groups helping out, it's going to be almost impossible for McCauley to match Houlahan's marketing and GOTV firepower.
***
While much of the news this week about Speaker of the House Paul Ryan retiring focused on who would succeed him (Keven McCarthy seems likely if the GOP manages to maintain control), the fact that a Democrat is likely to take up the gavel in January seems to have escaped some — between the political environment, Republican retirements and Democratic voter enthusiasm, a blue wave seems to be forming.
So, come January, it appears a Democrat could well be wielding the gavel.
But it shouldn't be Nancy Pelosi. While Rep. Pelosi was a formidable Speaker in her day, it is time to pass the leadership on to another generation. And no, that doesn't mean 78-year-old Rep. Steny Hoyer (D-Md.) as has been rumored.
Pelosi and Hoyer should make clear this summer that they intend to step aside in favor of younger leadership to take away a talking point for Republican candidates. The obvious pick: Queens, N.Y. Congressman Joe Crowley, current chair of the House Democratic Caucus.
He's young enough — 56 — not to seem like a retread, does well on TV and carries little of the baggage of Pelosi, who polls slightly worse than food poisoning.
I'm not sure that either Pelosi or Hoyer seem to get the politics of the moment — but it would be very smart if both stepped aside by early summer and said they would not be candidates for Speaker should the Democrats win in November. It would take a bogeyman away from Republicans and allow for a new era of leadership in the party.
I'm not sure it's likely to happen – Democrats being Democrats — but it would be the right move in this moment.